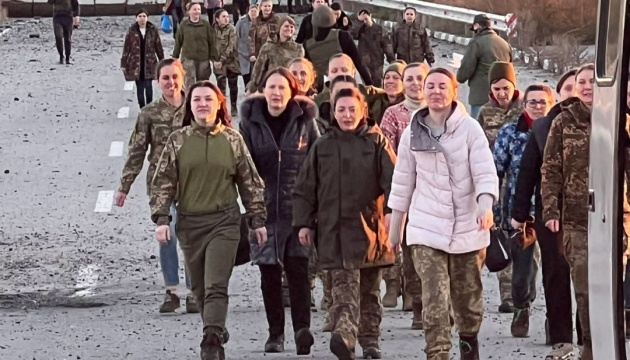 All Ukrainian POWs to be returned from Russian captivity - Zelensky
President of Ukraine Volodymyr Zelensky says all Ukrainian prisoners of war will be returned home as the exchange team continues its work.
The leader touched on the topic in a video address to the nation released late Monday, October 18, an Ukrinform correspondent reports.
"The next stage of the release of our people from Russian captivity has taken place. We managed to return 108 Ukrainian women – officers, sergeants, and privates. They're with the Army, Navy, Territorial Defense, National Guardswomen, and Border Guards. It's 96 servicewomen, 37 of them – evacuees from Azovstal, as well as 12 civilians. Among those released today are those who had been captured long before the full-scale war. We don't forget any of our people, we have to return them all. And we will return them. Our exchange team continues this work. It's (defense intelligence chief Kyrylo - ed.) Budanov, (head of the President's Office Andriy - ed.) Yermak, (deputy chief of defense intelligence Dmytro - ed.) Usov, (acting head of the SBU security service Vasyl - ed.) Maliuk, (Ombudsperson Dmytro – ed.) Lubinets, and others," Zelensky noted.
The president thanked everyone involved for the success achieved, as well as those who replenish Ukraine's POW exchange fund, ensuring the capture of enemy forces on the battlefield.
"The more Russian prisoners we have, the sooner we will be able to have our heroes released. Every Ukrainian soldier, every front-line commander should know this," the head of the Ukrainian state emphasized.
As reported, Ukraine released 108 women from Russian captivity on Monday, October 17.
Photo: Andriy Yermak, Telegram