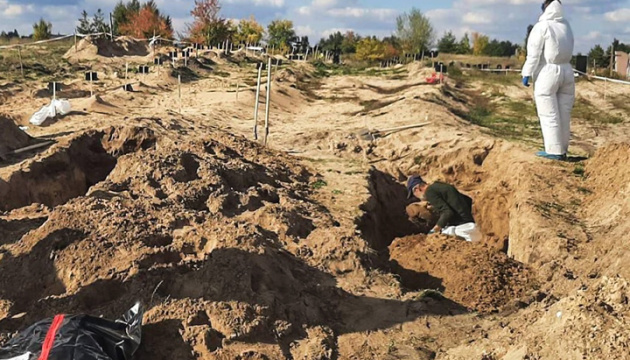 First 20 bodies exhumed in Lyman, children among them
The first 20 bodies have been exhumed at a mass burial site in the Donetsk region's Lyman.
The relevant statement was made by Head of the National Police of Ukraine Ihor Klymenko when inspecting the investigative activities within the Donetsk region's liberated areas, an Ukrinform correspondent reports, referring to the National Police of Ukraine.
Exhumation procedures are now underway in two locations. About 200 civilians were buried in one of them. The other is a mass grave of Ukrainian servicemen. The bodies of children were found among the victims.
"Civilians were buried in single graves, and servicemen – in a trench of 40 meters long. According to the witness, he buried about 20 Ukrainian defenders here, as instructed by Russian invaders. A whole family with two little children is among those killed," the report states.
Some graves have plaques with information about the deceased, while others are nameless. In each case, the police take biological samples to identify the deceased and determine the cause of their death.
During the first days, a total of 20 bodies of civilians and Ukrainian servicemen were recovered.
In general, since September 29, 2022, a total of 87 bodies have been found in the Donetsk region's liberated areas, and 38 of them have already been identified.
According to the preliminary estimates, most victims died from shrapnel injuries and natural causes. Some bodies have gunshot wounds. For example, according to the preliminary data, a man was shot dead by the Russian military in Sviatohirsk.
mk