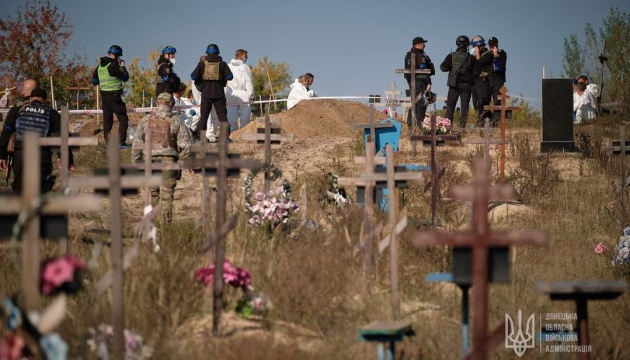 Exhumation, reburial of victims begin in de-occupied Lyman, Sviatohirsk
The exhumation and reburial of those who had fallen victims to the Russian armed aggression during occupation started in the Donetsk region's Lyman and Sviatohirsk.
The relevant statement was made by Donetsk Regional Military Administration Head Pavlo Kyrylenko on Telegram, an Ukrinform correspondent reports.
According to Kyrylenko, two mass burial sites have been discovered in Lyman so far. One of them contains about 200 graves. According to the preliminary data, these are single graves, where civilians are buried.
The other site is a mass grave. Following the investigative information, both civilians and servicemen could have been buried there.
Law enforcement officers are examining these sites, and exhumation procedures will start soon.
In Sviatohirsk, twenty-one civilians were reburied in a city cemetery. During battles for the city and after it was seized by Russian invaders, civilians had to be buried directly on streets and in the yards. All of the bodies of those who had been reburied were identified, Kyrylenko stressed.
A reminder that the Armed Forces of Ukraine liberated the Donetsk region's Sviatohirsk from Russian troops on September 12, 2022. On October 2, 2022, Ukrainian President Volodymyr Zelensky announced the Ukrainian military had fully cleared the Donetsk region's Lyman from Russian invaders.
mk