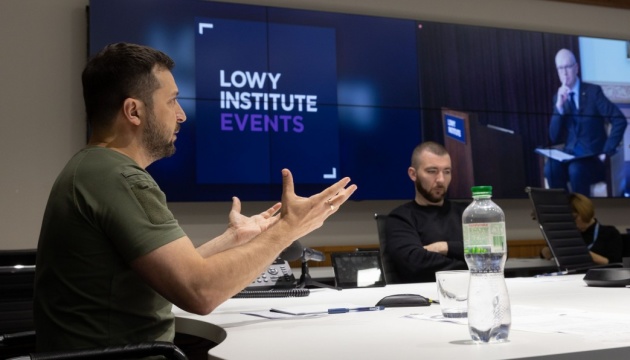 Zelensky: If world's reaction is weak now, Russia will come up with some new escalation
President Volodymyr Zelensky has called on the world to give a strong response to Russia's decision regarding an attempt to annex the temporarily occupied territories of Ukraine in order to prevent further escalation of Russian aggression.
President said this in his address to the Australian Lowy Institute via video conference, Ukrinform reports.
"Now is the time to increase this pressure. Just now. Right after Russia staged this farce with sham referenda and this annexation. The price of such actions must be tangible, the consequences - devastating. The aggressor should have no illusions that 2014 can still happen again," the president said.
Zelensky reminded that on September 30 of this year, the head of Russia announced the purported annexation of part of the territory of Ukraine. Four of our regions, from which the Russian occupation contingent has not yet been ousted.
According to him, this new attempt by Russia to grab someone else's property is an obvious attempt to repeat 2014 – the annexation of Crimea. In 2014, Russia was not punished for this crime and this increased the aggressor's sense of impunity.
"Be sure - the head of Russia is now carefully analyzing the world's reaction to the sham referenda he organized on Ukrainian soil and to the announcement of the annexation of our territory. What exactly is he interested in? It's simple: he is interested in whether he still has the potential for escalation. If the world's reaction is weak now, Russia will come up with some new escalation," Zelensky said.
The president stressed that strength is needed to finally put an end to aggression - to the aggressor's ability to escalate. In particular, on international platforms, a clear and principled condemnation of Russia for this attempt to annex Ukrainian territory is needed. At the level of states and unions of states, new and tough sanctions against Russia are needed. And at the level of cooperation with Ukraine, regular and demonstrative support packages are needed, primarily defensive and financial.
As Ukrinform reported, on September 30, the Kremlin held a ceremony on "the accession to Russia" of the self-proclaimed "DPR/LPR", as well as the territories of Kherson and Zaporizhzhia regions captured by the Russian army after sham referendums held on September 23-27.
iy