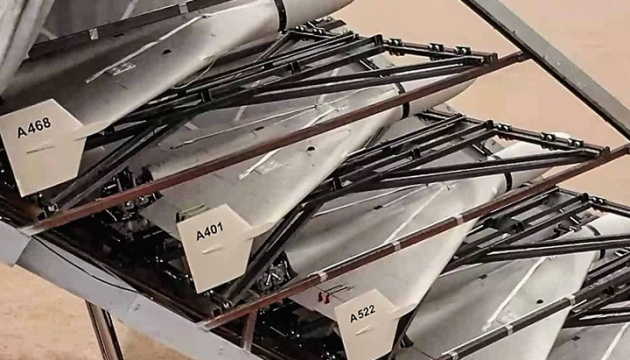 Russia employs cheap Iranian drones to save on high-precision missiles - Air Force
The intensification of cooperation between the Russian Federation and Iran in the issue of purchasing Iranian drones is related to Russia's intentions to save on the use of high-precision missiles, which cost millions of dollars.
That's according to Yuriy Ihnat, the spokesman for the Ukrainian Air Force, who spoke on the air of the national telethon, Ukrinform reports.
"Yes, of course, cooperation with Iran in this area is directly related to the purchase of these UAVs. It is not only about Shahed-136, it is also about Shahed-129, there is also Mohajer-6 – these are strike drones that are not kamikaze, but they are strike-type and have multiple functions as they are unmanned aircraft complexes, so, of course, Russia took this step forcedly, because the number of missiles is not unlimited in Russia. High-precision missiles are expensive, such as Kh-101, Kalibr, Kh-555, and Iskander – these are the missiles that cost millions of dollars," the spokesman said.
According to Ihnat, in particular, a single Kalibr missile costs about US$6 million, while a Kh-101 missile costs about $13 million. In addition, the named missiles can carry nukes, so Russia should save them in order to threaten not only Ukraine, but also the West.
That is why Russia now uses cheap Shahed-136 drones, Ihnat explained.
The spokesman did not rule out that the mentioned Iranian drones could be used in different directions, also assuring of the Armed Forces' preparedness. Ukraine is now asking Western partners to provide more powerful air defense systems that can destroy enemy UAVs at different stages and directions.
As Ukrinform reported earlier, overnight Wednesday, October 5, the town of Bila Tserkva in Kyiv region was attacked by Shahed-136 kamikaze drones. Fires broke out at a number of infrastructure facilities, at least one casualty was confirmed.
It was also reported that the Shahed-136 kamikaze drones, which attacked Ukraine on the night of October 5, flew in from the south.