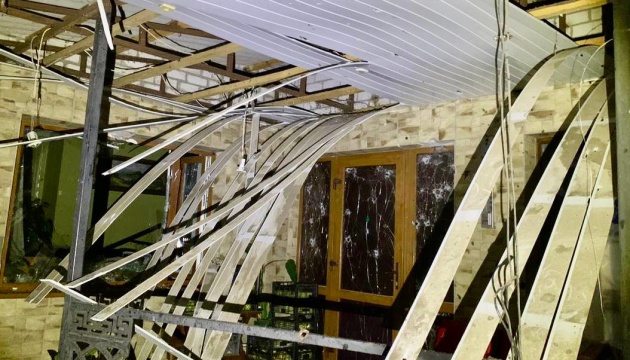 Four injured in Russia's shelling of two districts in Dnipropetrovsk region
Russian forces last night attacked the Nikopol and Synelnykove districts in the Dnipropetrovsk region, injuring four people.
Valentyn Reznichenko, the head of the Dnipropetrovsk regional military administration, said this in a statement on Telegram, Ukrinform reports.
"Nikopol was hardest hit. About 30 shells from Russian Grads and heavy artillery landed there. Four men, 28, 48, 50 and 66, were injured. Two of them are in the hospital," the post said.
More than 30 apartment blocks and private buildings were damaged. Four apartments in one apartment block were destroyed.
The city was left without water - the network of the water supply station was damaged. More than 7,000 households were left without electricity. Half of the power supply has already been restored.
Shelling also damaged a school, a pharmacy, an industrial enterprise, a grain elevator, shops and administrative buildings.
In the Marhanets and Chervonohryhorivka communities, the extent of the destruction is being determined. According to preliminary information, there are no casualties.
In the Pokrovsk community, Synelnykove district, the warehouses of an agricultural enterprise caught fire due to an enemy attack. Firefighters put out the blaze. People were not injured.