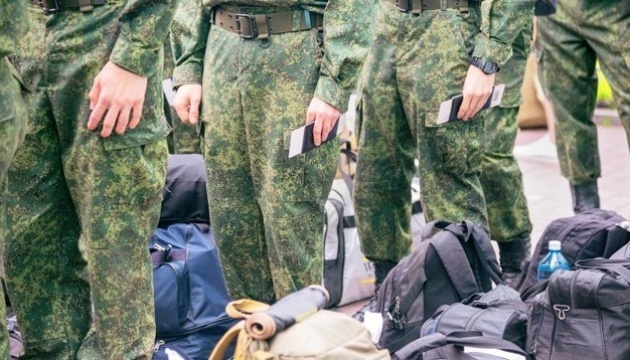 Putin's mobilization will further upend Russian economy - POLITICO
Russian President Vladimir Putin may well succeed in mobilizing the 300,000 reservists he says he needs for the war in Ukraine — but since his announcement, some 360,000 men have already traveled to Georgia and Kazakhstan to escape this fate, and countless others have made their way to other countries.
This will have a significant impact on the Russian economy, Ukrinform reports, citing POLITICO.
"The more the Kremlin mobilizes, the more men will try to leave the country, and that has massive implications for all manner of Russian workplaces, and consequently, the economy," the media outlet said.
With so many men gone, or about to pack their bags, sectors critical to the functioning of society — from factories to internet providers — are at risk of serious disruption. And Russia has no plan in place to deal with this.
POLITICO explains that Russia has no set system for the continuity of its society during wartime. By contrast, Russia's neighbors Sweden and Finland have long maintained such detailed plans for how to keep society going in case of war, and it involves more than, say, engineers staffing nuclear power plants.
During the Cold War, Sweden operated a plan featuring so-called "war placement" for scores of workers who would, in case of war, remain in their civilian jobs or take on government tasks with similar functions.
Had Sweden or Finland been invaded during the Cold War, a core of factory workers would have kept up civilian and military production. A core of journalists would have continued informing the public. A core of doctors, nurses, teachers, supermarket workers, train engineers and lorry drivers would have made sure the population was fed and able to access necessities.
As demonstrated by the haphazard way in which men are currently being mobilized, however, it is clear that Russia has no such continuity-of-society plan. There aren't enough women who can quickly step in and take on the jobs of the men who have been mobilized and have fled the country.
"The mobilization is happening randomly, and because of that, it will hit the economy. Maybe not on the first day, but the economy can't just keep going without these men and the men who've fled," the news outlet quoted retired Lieutenant General Arto Räty, a former permanent secretary of Finland's Ministry of Defense, as saying.
On September 21, Putin declared a "partial mobilization," whereas Russian Defense Minister Sergei Shoigu announced that 300,000 reservists would be called up as part of the campaign.