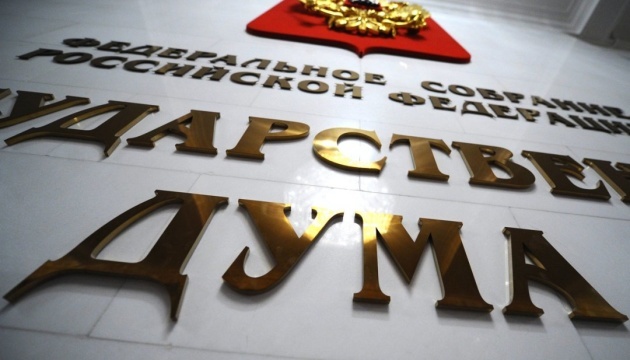 Russia's State Duma ratifies documents on annexation of Ukrainian territories
Deputies of the State Duma of the Russian Federation at an extraordinary plenary session unanimously ratified documents on Russia's annexation of Donetsk, Zaporizhzhia, Luhansk and Kherson regions of Ukraine.
The relevant statement was published on the Russian parliament's website.
According to the approved documents, Donetsk and Luhansk regions of Ukraine were "acceded to Russia" as "DPR" and "LPR" within the administrative borders of 2014. The borders of Kherson and Zaporizhzhia regions are not defined in the documents.
In addition to documents on ratification, the Russian deputies adopted four federal constitutional laws on the "accession" of the four annexed regions to Russia, which must be approved by the Federation Council and signed by President Vladimir Putin.
It is planned to establish "subdivisions of federal government bodies" in the regions by June 1, 2023, and to create city and municipal districts within six months.
It is stated that the monetary unit in the territories of the "new entities" will be the Russian ruble. Until December 31, 2022, the circulation of the Ukrainian hryvnia will be allowed for cash and non-cash payments.
Armed forces and military formations created by the occupying authorities are proposed to be included in the composition of the Russian army and other types of troops. The "treaties" envisage that citizens of Ukraine living in the territories will be considered Russian citizens by Moscow if they do not declare their unwillingness to receive a passport within a month. According to the logic of the adopted decision, Russia will also consider as its citizens the residents of territories that it has never controlled, for example, the regional center of Zaporizhzhia, with a pre-war population of almost 700,500.
As Ukrinform reported, on September 30, the Kremlin held a ceremony on "the accession to Russia" of the self-proclaimed "DPR/LPR", as well as the territories of Kherson and Zaporizhzhia regions captured by the Russian army.
iy