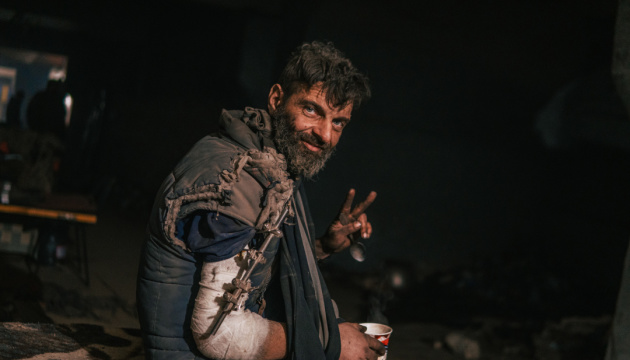 Ukrainian marine released from Russian captivity reveals tortures used by Russians
Russian invaders are treating Ukrainian prisoners of war in a cruel manner, like animals.
The relevant statement was made by Mykhailo Dianov, a Ukrainian marine and Azovstal defender, who was released from Russian captivity on September 21, 2022, in an interview with SkyNews, an Ukrinform correspondent reports.
"They treated us like animals. […] You were given 30 seconds for each meal. In 30 seconds you had to eat everything you could. Bread was deliberately very hard. Guys who had their teeth knocked out couldn't manage to eat in time. It was 30 seconds, and then you had to stop. Then you had to get up straight away and run. It was like that all the time," Dianov told.
In his words, some prisoners were thrown in solitary confinement and tortured for picking up a berry from the ground and eating it. They were beaten with sticks, given electric shocks and had needles put under their nails.
"Believe me, after a month of being starved, when you close your eyes, you forget about your family, about your country, about everything. The only thing you think about is food," Dianov noted.
According to Dianov, Russian invaders keep many more prisoners in one block than they should. For example, he was packed into a block with 800 other prisoners, although each block is designed for 150 people. The conditions were so cramped, his leg muscles wasted and walking is now a challenge.
After four months spent in Russian captivity, Dianov lost 40 kilograms in weight, and his health deteriorated significantly.
"Everyone is traumatized. I consider myself to be a mentally strong person, but for me a lot of things have lost their value," Dianov said.
In an interview with TSN, Dianov mentioned the Olenivka prison was like a concentration camp. Prior to his release from Russian captivity, Dianov was taken out of the Olenivka prison just once, to remove an external fixation apparatus from his seriously injured hand. The procedure was carried out with Lineman's pliers, without anesthesia.
There are still traces of duct tape on Dianov's face.
"They wrapped tape around my head and pushed their legs into my stomach, so they could make it tighter, and I spent a day, a day and a half like that," Dianov told.
He travelled for 36 hours with his eyes taped with no idea where he was going, and it was only after the tape was finally removed that he realized he was back in Ukraine.
Dianov believes his hand will be restored, and he will be able to play again. In the peaceful time, he was a musician, had his own band and enjoyed playing the bass guitar.
At the moment, Dianov is preparing to leave for the United States to have a long medical treatment funded by sponsors.
Photo: Dmytro Kozatskyi
mk