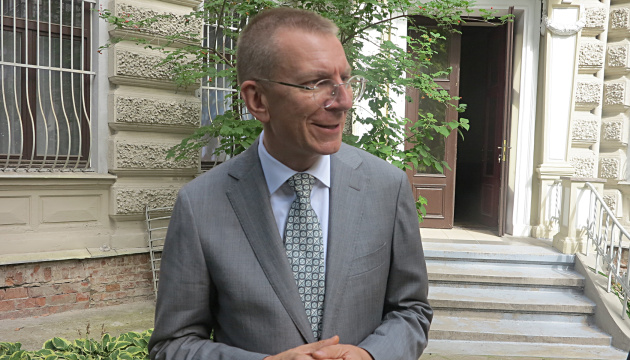 Latvia's foreign minister: Russia's tactical nuclear weapons threat "blackmail," not "base option"
The Minister of Foreign Affairs of Latvia, Edgars Rinkēvičs, believes that the use of tactical nuclear weapons by Russia cannot be ruled out, however, the Kremlin realizes that this will become a "point of no return" for them, so this is primarily blackmail, not a "base option" for further Russian operations.
Rinkevičs stated this in an interview with Ukrinform.
"We do not rule out the possibility of Russia using tactical nuclear weapons. (There is also another option: the use of chemical weapons). However, people in the Kremlin understand that such a precedent would mark a point of no return for them. Therefore, I don't think that the Kremlin is currently looking into this as a base option for their further operations," Rinkēvičs said.
At the same time, such blackmail is dangerous anyway because the Russian army will keep suffering defeats, losing face, "in front of both the international community and its own population." Another negative indicator is that this topic is regularly brought up on Russian television, so there are fears that this way Moscow can psychologically prepare their population for such developments.
In the end, Rinkēvičs noted that the world must be prepared for various turns of events. In the West, the issue of response to Russia's nuclear threats is now being discussed. "But at this stage, I can't dwell into any details because this issue is still being discussed at a level that's not yet public," the head of the Latvian MFA emphasized.
As reported earlier, on Friday, Russian President Vladimir Putin, signed the "agreements on accession to Russia" of the temporarily occupied Ukrainian territories of Donetsk, Luhansk, Kherson, and Zaporizhia regions, and also declared that from now on their residents are citizens of the Russian Federation.
The Latvian Ministry of Foreign Affairs said it would not recognize the annexation attempt and condemned Putin's move, emphasizing a clear violation of the UN Charter and other norms of international law. MFA Latvia reiterated firm support for the sovereignty and territorial integrity of Ukraine within its internationally recognized borders.