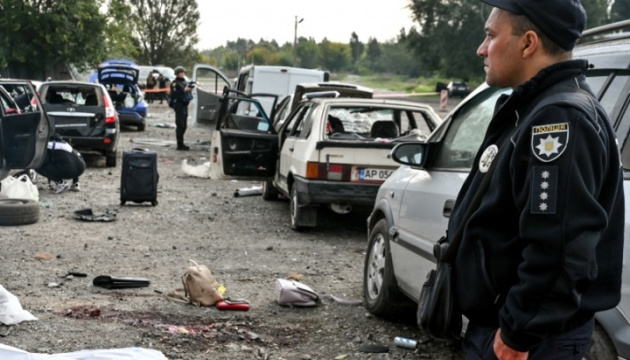 Attack on humanitarian convoy in Zaporizhzhia: Russia kills 26 people, injures 85 more
Russia's missile attack on a humanitarian convoy in Zaporizhzhia is a terrorist attack, as a result of which 115 people, including children, were killed or injured.
"About 50 cars gathered here today, and their number kept growing every minute. At 07:12, S-300 missiles slammed. Three arrivals with a short interval claimed the lives of 26 people, including two children: 11-year-old Maksym and 14 -year-old Valeria. Their mother was killed also. And their three-year-old sister is in the hospital. Her grandparents from Lviv region are on their way to her," Minister of Internal Affairs of Ukraine Denys Monastyrskyi said in Zaporizhzhia, an Ukrinform correspondent reports.
According to Monastyrskyi, at least 85 people were injured. "A total of 115 people were killed or injured in this terrorist attack committed by the Russian authorities," he said.
Monastyrskyi added that Ukrainian citizens had gathered every day at 07:00 to go to the captured territory to their homes, their parents and children.
"So these strikes were deliberately launched today. There is no military object here, only civilians. This strike was absolutely clearly planned. Now the main terrorist of the world, Putin, is speaking, declaring the annexation of these areas. Yes, this is a response to the success of our troops in Kharkiv region, today's success of our troops near Lyman, this is the Russian army's impotent response to the civilized world," Monastyrskyi added.
According to his data, the enemy fired S-300 missiles at Zaporizhzhia, probably from the direction of Tokmak.
As reported, on the morning of September 30, Russian troops hit a convoy of cars with civilians trying to leave for the temporarily occupied territories for humanitarian purposes. Sixteen missiles were launched with the use of S-300 anti-aircraft missile system. As of 13:00, it was known about 23 killed, 66 hospitalized.
ol