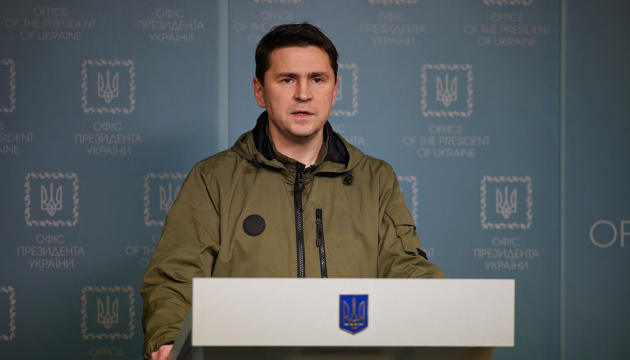 Russia's annexation of Ukrainian territory won't change anything on battlefield - official
Ukraine is determined to reclaim territory that Russia is likely to annex following pseudo-referendums in occupied areas and takes seriously Moscow's threats to use nuclear weapons.
Mykhailo Podolyak, an adviser to the head of the Office of the President of Ukraine said this in an interview with The Associated Press, Ukrinform reports, citing the presidential press service.
According to him, nothing will change on the battlefield if Russia moves to incorporate the Donetsk, Luhansk, Kherson and Zaporizhzhia regions in southern and eastern Ukraine in the coming days, as is widely expected.
"We will liberate our territory by military means. And for us, our actions depend not so much on what the Russian Federation thinks or wants, but on the military capabilities that Ukraine has," Podolyak said.
He added it was vital that Ukraine retake all of its land that was seized by force. He characterized the goal as important not just for his country but for its European neighbors as well.
"Otherwise, Russia will feel that it has the right to blackmail the world, raise the stakes, escalate the conflict, and see itself as the victor in what they will see as a grievous war against Europe," Podolyak said.
In his opinion, in order to ensure stability in Europe as a whole, it is necessary to liberate Ukrainian territory in full.
"Only this is a safeguard for the further development of the war," Podolyak said.
Podolyak, who was part of the Ukrainian negotiating team during earlier rounds of peace talks with Russia, held out dim hopes for meaningful negotiations in the near future.
He expressed doubt that Moscow is willing to engage in good faith and said Russian officials only want to buy time to regroup and reinforce their position on the battlefield.
"Russia constantly talks about negotiations in an ultimatum style but only speaks for an external audience, because it wants to ensure pressure on Ukraine from our partners saying that they are ready to conduct negotiations," Podolyak said.
On September 23-27, leaders of the puppet entities "LPR/DPR" and collaborators in the Russian-occupied territories of the Kherson and Zaporizhzhia regions, together with armed Russian military personnel, held the so-called "referendums on joining Russia."
Leaders of Western countries have already said that any Russian sham referendums in Ukraine will be illegitimate.
The Kremlin announced that on Friday, September 30, that they intend to sign "agreements" on the so-called "incorporation" of Ukrainian territories captured by Russian troops into Russia after staged pseudo-referendums.
Photo: President's Office