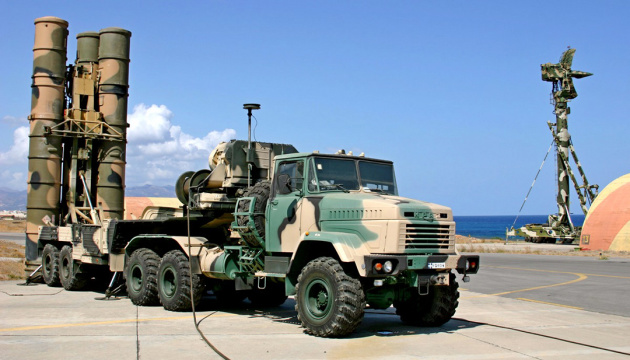 Ukraine Army destroys three enemy S-300 missile systems in Zaporizhzhia direction
In the Zaporizhzhia direction, near the city of Tokmak, Ukraine's Defense Forces have destroyed three Russian S-300 missile systems.
The relevant statement was made by the General Staff of the Armed Forces of Ukraine on Facebook, an Ukrinform correspondent reports.
Over the past day, Ukrainian forces have repelled enemy attacks near such settlements as Zaitseve, Maiorsk, Zalizne, Bakhmutske, Odradivka, Mykolaivka Druha, Ozerianivka, Pervomaiske, Pobieda, Novomykhailivka, Pavlivka and Bezimenne.
In order to provide support for ground units, Ukraine's Air Force launched 16 strikes. The enemy's losses were confirmed as follows: three strong points, 10 military equipment clusters, and three air defense missile systems. In addition, across different directions, the Ukrainian anti-aircraft defense units shot down four Russian unmanned aerial vehicles (UAVs) and four Kh-59 guided air-launched missiles.
Ukraine's missile and artillery units continue to inflict fire damage on enemy targets. Over the past day, they have struck two Russian command posts, seven personnel and military equipment clusters, one radio relay station, three electronic warfare systems, two ammunition depots and one fuel depot.
The Russian military command continues efforts to replenish personnel losses, namely with recruiting convicted persons. According to the available data, about 400 recruited prisoners came to a training center in Russia's Rostov region. Their training will last until September 30, 2022.
The enemy continues to send the newly mobilized and low-skilled personnel to the areas of hostilities. On September 26, 2022, seven tanks were sent to the Donetsk region's Lyman, and two of them got into an accident when driving. The newly formed tank crews also did not undergo proper fire training.
On September 27, 2022, a total of 2,000 Russian mobilized soldiers came to the Kherson region from Sevastopol. In the temporarily occupied Crimea, military commissars were instructed to call into service primarily Crimean Tatars and send them to the military units completing combat missions in the areas of the most active hostilities. On September 26, 2022, twenty-one Crimean Tatars were mobilized in the Saky district alone.
mk