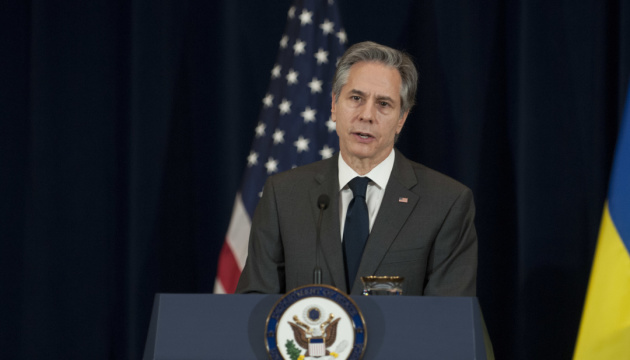 Ukraine can use Western weapons in regions that Russia plans to declare its own - Blinken
The United States does not object to Ukraine using weapons supplied by the Western powers to retake its own territory from Russian occupation, including the areas that the Kremlin intends to claim as its own after holding sham referenda there.
That's according to U.S. Secretary of State Antony Blinken, who spoke at a joint press conference with India's Minister for External Affairs Subrahmanyam Jaishankar on Tuesday, September 27, an Ukrinform correspondent reports.
"Ukraine has the absolute right to defend itself throughout its territory, including to take back the territory that has been illegally seized in one way or another by Russia," the head of the U.S. State Department noted.
In this regard, the top diplomat emphasized that the weapons handed to Ukraine by the United States, as well as other allied countries, have already proven their effectiveness – both in the north of Ukraine a few months ago, and now – in the south and east.
Blinken emphasized that the announcement by the Russians of the annexation of Ukrainian territories would not create any changes for either the U.S. or Ukraine in terms of perception of the situation. According to the head of U.S. diplomacy, "the Ukrainians will continue to do what they need to do to get back the land that has been taken from them," while the United States "will continue to support them (the Armed Forces - ed.)."
The head of the State Department also emphasized that the United States and other nations would never recognize the annexation of Ukrainian territories should the Kremlin announce the move. He recalled that Washington had already announced its intention to impose new "severe and swift costs" on the Russian Federation if the latter decides to declare annexation.
As reported by Ukrinform, the Minister for Foreign Affairs of Ukraine, Dmytro Kuleba, called on the international community not to limit itself to a mild reaction to sham referenda organized by the Kremlin in Ukraine. "We need an extremely serious and effective reaction with concrete things that will hit the Russian economy," the top diplomat said.