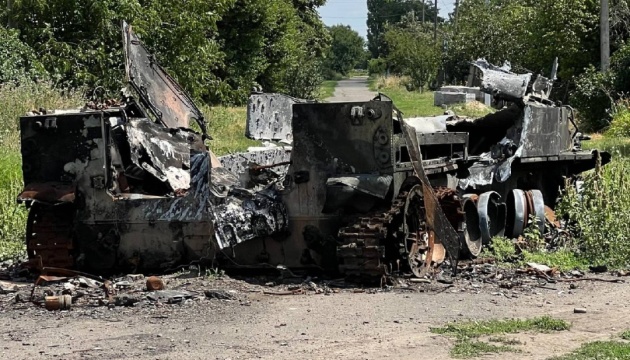 Ukraine Army eliminates 77 invaders, destroying six enemy tanks, three Pantsir launchers in country's south
Over the past day, Ukrainian defenders eliminated 77 Russian troops and almost three dozen units of Russian equipment in the southern warzone.
That's according to an update by Operational Command South, Ukrinform reports.
"The situation in our operational zone is steadily tense, while remaining under our control. There were no changes in the composition of enemy forces and their position. The occupying troops continue to shell our positions and front-line territorial communities, employing various types of weapons," the statement reads.
Throughout the day, the enemy launched four air strikes and a missile strike.
The city of Marhanets was once again targeted by Russian heavy artillery. A private garage was destroyed and a civilian was injured. The enemy attacked Kryvyi Rih with an air-launched Kh-59 missile. Targeting the local airport, the missile destroyed the facility's infrastructure. Due to significant damage to the airfield and its equipment, its further use is impossible. There are no casualties reported.
Another group of kamikaze drones was targeting Odesa on the same day. All three drones involved in the attack were downed by Ukraine's air defense forces.
The Ukrainian Air Force carried out 10 strikes on the enemy. A Russian unmanned reconnaissance aircraft, Orlan-10, was destroyed in the Bashtanka district of Mykolayiv region.
Ukraine's missile and artillery units completed 250 firing missions. "In the Kherson and Beryslav districts, four positions of enemy weapons and equipment and four ammunition depots were hit. Another barge in the Kherson area was destroyed, along with the enemy's hope of establishing a crossing on the Dnipro River. Fire control measures were executed toward the Russian air defense positions and the attempts by the occupiers to restore the capacity of the Nova Kakhovka Bridge," Ukrainian defenders note.
Confirmed enemy losses include 77 troops, six main battle tanks, five howitzers, including self-propelled Msta-S guns, three anti-aircraft gun-missile complexes Pantsir-S1, and 14 armored vehicles.
"The naval grouping of the enemy fleet saw no changes in composition, navigation area, and threats it poses: four missile carriers, one of which is a submarine, are keeping 28 Kalibr missiles combat-ready," the report concluded.
Photo: Ukraine's Navy, Telegram