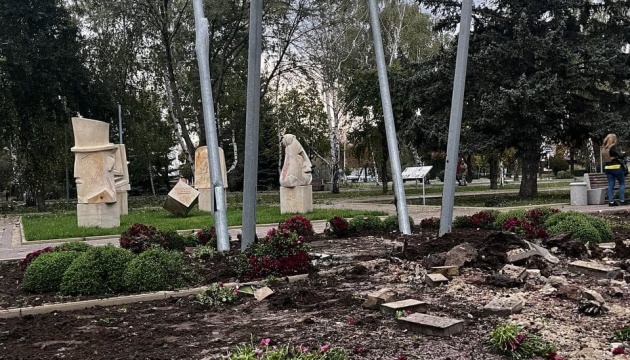 Russians hit Kramatorsk, Sloviansk almost simultaneously. Aftermath of rocket attacks
The Donetsk Regional Military Administration released a video showing the aftermath of Russian rocket attacks, which were launched on Kramatorsk and Sloviansk almost simultaneously.
The video was released on the administration's YouTube channel, Ukrinform reports.
"The Russian occupiers struck Kramatorsk and Sloviansk almost simultaneously. In Kramatorsk, rockets hit the town center: one rocket fell into the park of sculptures "Born in Ukraine" by the famous Donetsk region artist Vyacheslav Hutyria, another hit a five-story building... In Sloviansk, a residential area in the town center came under fire. At least three buildings were damaged. The information about the casualties is being clarified," reads the description.
The video shows that the stone sculptures in the park of Kramatorsk survived, only some were split with debris. But the second rocket caused greater damage: a wall of a five-story apartment block was destroyed, four people were injured. At least 34 windows were broken in this building, and the roof was partially damaged.
The authorities of the region again called on everyone to evacuate.
As reported, the Donetsk region is under constant shelling by Russian troops, there is no gas supply in the region, and there are problems with water supply.
ol