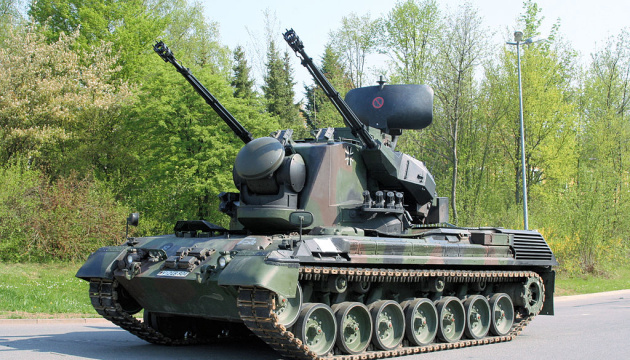 Ukraine receives from Germany six more Gepard self-propelled guns
Germany handed Ukraine another six Gepard anti-aircraft self-propelled artillery guns along with ammunition.
This follows from the updated list of military supplies, posted on the website of the German Federal Government, Ukrinform reports.
A total of 6,000 anti-aircraft munitions pieces go along with the self-propelled guns. Also, 3,000 shells for 155-mm artillery were handed over.
Thus, the Armed Forces of Ukraine already have in service a total of 30 Gepards
Being preparing for transfer are five Panzerhaubitzen 2000 self-propelled guns with a set of ammunition; MARS II MLR systems with ammunition; 50 Dingo General Defense vehicles, and a "Winter Pack" (warm uniforms, generator sets, tents, and food rations, etc.).
Earlier, the Bundestag discussed the issue of providing Ukraine with heavy weapons, in particular, Leopard main battle tanks and Marder infantry fighting vehicles, but no vote took place as the issue was forwarded to a specialized committee.
Instead, on September 21, the defense ministers of Germany and Slovenia agreed on a "ring exchange", according to which Slovenia is expected to supply Ukraine with 28 M-55S main battle tanks of the Soviet design in exchange for modern German military trucks from Bunderswehr stocks. Similar schemes already operate with the Czech Republic, Slovakia, and Greece.
Germany is currently the largest arms supplier to Ukraine in the EU and the third in the world after the USA and Great Britain. As of September 19, Germany has sent to Ukraine weapons and equipment worth over EUR 733,634,486.