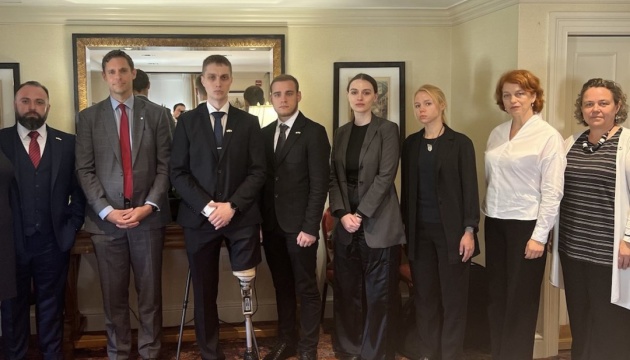 Relatives of Mariupol defenders meet with ICRC representatives in Washington
A delegation of the Association of Azovstal Defenders' Families and the Azov Regiment have met with the representatives of the International Committee of the Red Cross (ICRC) in Washington.
The relevant statement was made by the Association of Azovstal Defenders' Families on Telegram, an Ukrinform correspondent reports.
In cooperation with the Azov Regiment's fighters, the representatives of the Association of Azovstal Defenders' Families are paying a working visit to the United States. The delegation consists of Kateryna Prokopenko, Yuliia Fedosiuk, Alla Samoilenko, Heorhii Kuparashvili, Vladyslav Zhaivoronok and Artur Lypka.
On behalf of the ICRC, the delegation was met by Patrick Hamilton, Head of ICRC Regional Delegation to the United States and Canada. In the course of the meeting, the parties discussed the urgent issues related to the situation with the defenders of Mariupol, who are now the prisoners of war, and the ICRC's actions in this regard.
The Ukrainian delegation raised the issue of the possibility of sending the ICRC mission to the places where the Ukrainian POWs are kept, delivering humanitarian convoys (including warm clothing). The delegation members also talked about the lack of proper care for pregnant prisoners, progress in the investigation into the Olenivka terrorist attack and the return of the bodies of those who had been killed in that attack, etc.
Hamilton and other representatives of the ICRC promised to continue efforts to get access to the Azovstal heroes and fulfill their obligations under international conventions. In addition, Hamilton assured the Ukrainian side he would help to establish communication between the families of the Mariupol defenders and the ICRC office in Kyiv.
Photo: t.me/AzovstalFamilies
mk