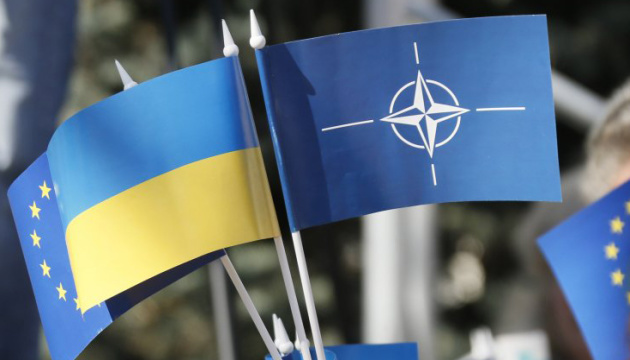 NATO to continue providing all possible assistance to Ukraine - Admiral Bauer
NATO and individual allies will provide Ukraine with military assistance as long as it is necessary.
That's according to Chairman of the NATO Military Committee, Admiral Rob Bauer, who spoke at a press conference in Tallinn on Saturday following the meeting of the allied chiefs of defense and chiefs of staff, an Ukrinform correspondent reports.
"The Chiefs of Defence also discussed how they will sustain and increase Allied support to Ukraine. The ammunition, equipment, and training that Allies are delivering are all making a real difference on the battlefield. With its successes on the ground and online, Ukraine has fundamentally changed modern warfare. NATO will support Ukraine for as long as it takes. Winter is coming, but our support shall remain unwavering," said the admiral.
Answering journalists' questions of whether NATO is ready to expand the supply of the most modern Western weapons systems to Ukraine, the military chief noted that the allies were already involved in such efforts.
He recalled that NATO supported Ukraine with a package of non-lethal aid, as agreed upon during the summit in Madrid. At the same time, the allies, and not only them, are doing everything possible to provide Ukraine with the required weapons and military equipment to support its ability to fight off the Russian aggressor. For example, during the Ukraine assistance conference in the Ramstein format, 50 countries took part, which is 20 more than the number of NATO allies.
At the beginning of the war, the admiral noted, emphasis was placed on weapons systems of the post-Soviet model. It was easier for the Ukrainians to get such weapons and use them immediately, which was logical. At the current phase, e more and more Western systems are being sent to Ukraine, although this requires training. The relevant work is underway. Ukraine's forces are trained to both operate weapons systems and ensure their regular maintenance, which is truly important in the conditions of war, according to the head of the NATO Military Committee.
He noted that currently the post-Soviet-style weapons that were in stocks of some allied countries, by and large, have already been used up. Thus, Ukraine continues to receive more and more Western weapons systems, and this process has already become almost "automatic."
"Without a doubt: a new era for global security has begun. It is crystal-clear that this conflict is bigger than Ukraine. The entire international rules-based order is under attack. And it is up to the free, democratic nations of the world to protect it.... These are challenging times. Times of great uncertainty. But we as Allies are strengthened by the knowledge that there are 3.2 million servicemen and women (soon to be more) who will do whatever it takes to protect every inch of Allied territory and every single one of the 1 billion citizens who live on Allied soil," added Admiral Rob Bauer.
As reported earlier, on September 16-18, an away meeting of the NATO Military Committee with the participation of the allied defense leaders is taking place in Tallinn.