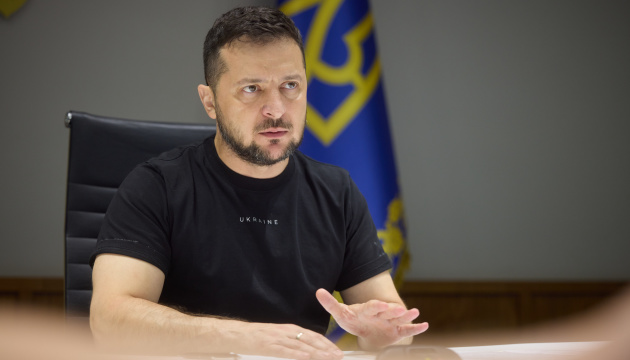 Zelensky on Russian atrocities in Izium: Russia must be recognized as terrorist country
Ukrainian President Volodymyr Zelensky has called on the world to recognize the Russian Federation as a state sponsor of terrorism so that the atrocities committed by the Russian army in Bucha, Mariupol and Izium do not happen again.
He said this in a video address published on Telegram, Ukrinform reports.
"Today, all our services - investigators, prosecutors, experts - are working in the city of Izium, Kharkiv region. Today, there are more than a hundred Ukrainian and international journalists in Izium. Today, the world should see what the Russian army left behind - another mass burial of killed people: children and adults, civilians and military. Tortured, shot, killed by shelling. Even whole families were buried there - mother, father, daughter. More than 400 graves. In a forest near Izium. We still don't know the exact number of bodies there. The exhumation has just begun," Zelensky said.
He said even today there is evidence of further atrocities committed during the Russian occupation.
"The body of a person who was strangled with a rope and buried with a rope around his neck. Bodies with broken arms, with other signs of torture. A mass grave with killed soldiers - 17 bodies, some of them with obvious traces of torture. Today, the world must see it. The world must know that Russia leaves such traces of atrocities, traces of terror everywhere in the occupied territory. You saw Bucha. You saw Mariupol. Now it's Izium," Zelensky said.
He also added, "How many more such places should Russian terrorists create before the world stops them?"
"Today I am addressing everyone, America and Europe, politicians and societies, the UN and all international organizations, the leaders of states and all ordinary people who value life. Today there is only one thing – recognizing the truth, recognizing Russia as a state sponsor of terrorism. Russia has already become the largest source of terrorism in the world. No other terrorist entity leaves behind so many deaths. This must be recognized legally. It's time to act. If Russia is not recognized as a state sponsor of terrorism, it will be a betrayal of all those who were killed by Russian forces, who were tortured, who were buried in numerous mass graves throughout the territory where Russian soldiers entered," he said.
According to him, "action must be taken so that Bucha, Mariupol, and Izium do not happen again."
"Russia must be recognized as a state sponsor of terrorism. Otherwise, its terror will not be stopped," Zelensky said.
Earlier reports said that about 8,500 square kilometers of territory, about 388 settlements and almost 150,000 people had been liberated from Russian invaders in the Kharkiv region since September 6.
The head of the National Police of Ukraine, Ihor Klymenko, said that in the recaptured territories of the Kharkiv region, law enforcement officers had found ten torture chambers, six of them in the city of Izium.
Ukraine's Ministry for Reintegration of Temporarily Occupied Territories said that the exhumation of bodies at mass burial sites had begun in Izium, Kharkiv region.