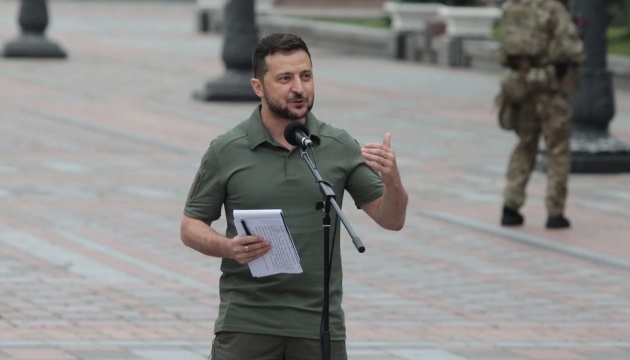 "Not too many countries" able to help set up no-fly zone over Ukraine - Zelensky
Ukraine needs effective air defense and anti-missile defense, but there are not too many countries in the world that can help Ukraine protect its sky. Dialogue is currently underway with these governments.
President of Ukraine Volodymyr Zelensky made the relevant statement at a joint meeting with journalists in Kyiv alongside Ursula von der Leyen, the European Commission President, an Ukrinform correspondent reports.
"We are determined to work with France, Italy, and Germany on this issue. I am up for serious work, but I have not yet received a positive response from Israel. In fact, in the end, there are not so many countries that are able to ensure a no-fly zone for you and me from the point of view of air defenses. The issue should be resolved around these five countries," Zelensky said.
According to the president, positive results are seen in negotiations with German partners regarding the supply of NASAMS and IRIS-T. "We expect several systems. So far we haven't received any. The same from the USA. We are awaiting them. Thank you for supporting this process. We are expecting NASAMS as well," Zelensky said.
According to the Ukrainian leader, now Ukraine should create safe conditions for its citizens, so that they are not afraid to return to their Motherland from the countries where they found shelter after fleeing from the war unleashed by Russia.
Zelensky focused on the current state of Ukraine's infrastructure from the perspective of the security situation in the country. "First of all, it is possible to quickly reconstruct the educational infrastructure, places where people would return, where children should go, like schools, etc. In areas where there is no such possibility and schools have not yet been rebuilt or reconstructed, there should be an online education format everywhere. In addition to schools, there are also universities, kindergartens, etc. We understand that there is a possibility of quick renovation – we also talked about this – that we need money.
"I have already personally appealed to Congress and President Biden, as well as to the European Commission, to Ms. Ursula von der Leyen with such a request. There is money that we need this year, there is a second tranche that we need next year," he said.
At the same time, the president has no doubt that Ukrainians will eventually return home.
"It seems to me that there is no need to look for internal motivation among Ukrainians. They love their country and want to come home," he is convinced.
The president added that at the meeting with Ursula von der Leyen, he discussed continued pressure on the Russian Federation in the wake of the upcoming 8th package of sanctions. "We talked about the details of the future package and things we're interested in. In general, we had a good meeting," said the head of state.
As reported, President of the European Commission Ursula von der Leyen arrived on a visit to the Ukrainian capital on Thursday, September 15.
President Volodymyr Zelensky conferred her with the Order of Yaroslav the Wise, 1st degree.