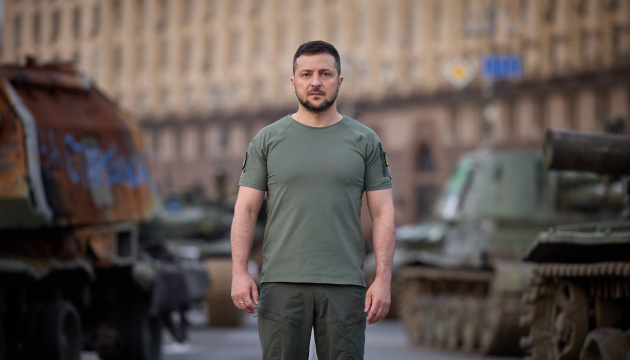 Zelensky addresses invaders in Russian, explaining why Ukraine set to win
Russian forces will forever remain terrorists, who will lose the war they unleashed against Ukraine.
That's according to a video address by President Volodymyr Zelensky, Ukrinform reports.
"I will speak in Russian to 'comrades.' Your missile attacks today, Russian missiles targeting Kryvyi Rih, the dam of the Karachunivske Reservoir, the objects that have no military value at all, in fact hitting hundreds of thousands of ordinary civilians, is another reason why Russia will lose. And not just this war, but history itself," the president said.
"History is written by people, never by savages. Who will you remain in history? All those who launch these missiles. Those who came to our land. Weaklings. You are weaklings waging a war against civilians. Scoundrels who, having fled the battlefield, are trying to do harm from somewhere far away. You will remain terrorists whom their own grandchildren will be ashamed of," the head of state stressed.
Events show that the only way out for Russian soldiers is to surrender to Ukrainian forces, said the president. "This is the only option that guarantees them life and attitude in accordance with all conventions. Every Russian soldier should have already understood that only in Ukrainian captivity will no one use him as cannon fodder in a war that is obviously losing for Russia."
As for the latest Russian missile attack on Zelensky's home city of Kryvyi Rih, the president says everything is being done to eliminate the consequences of this "yet another Russian vile act."
"A vile act, which may please insane Russian propagandists, but will certainly not save the moral and psychological state of Russian soldiers. They understood that the Russian command is incompetent, and that a rout awaits them in Ukraine on all fronts," the president underlined, adding that Russia "will not fix this with any terror, as terror only confirms the weakness of the one who resorts to it."
As Ukrinform reported earlier, at about 17:00 Kyiv time on Wednesday, September 14, Russian missiles hit the outskirts of Kryvyi Rih, damaging a major hydrotechnical facility, which led to a number of city streets being flooded.