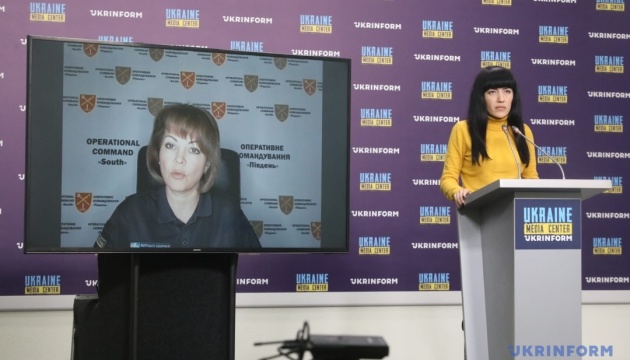 Ukraine's Armed Forces liberate about 500 sq km in south – Humeniuk
The Armed Forces of Ukraine have eliminated more than 1,800 Russian invaders in the south of Ukraine over the past two weeks. Territories of almost 500 square kilometers have been liberated.
Natalia Humeniuk, the head of the joint coordination press center of the Defence Forces of the South of Ukraine, said this at a briefing at the Media Center Ukraine - Ukrinform.
She also added that, while retreating, the enemy mined part of the territory.
"We have advanced in various areas from four to several tens of kilometers. We have liberated areas of about 500 square kilometers. We can claim that the settlements of Kherson region - Visokopillia, Novovoznesenske, Bilohirka, Sukhyi Stavok and Myroliubivka have already been liberated today and are under the Ukrainian flag. However, shelling of these areas is still ongoing. While retreating, the enemy mined part of these areas, so all local residents should be careful. Over the past two weeks, we have eliminated more than 1,800 invaders, more than 500 units of armored vehicles, 122 tanks, two aircraft, two helicopters in the southern direction alone and about 10 cruise missiles," Humeniuk informed.
She also added that the Russians, in order to increase psychological pressure, continue shelling Ukrainian territories.
"They really continue to shell Mykolaiv region, in particular, this concerns settlements along the contact line, and the areas of Kryvyi Rih and Nikopol. They are trying to increase psychological pressure to make it clear that their retreat under our pressure means nothing and they are keeping under fire control far territories," Humeniuk said.
As reported, being almost completely encircled in the south of Ukraine, the Russian troops are looking for an opportunity to lay down their arms and surrender.
iy