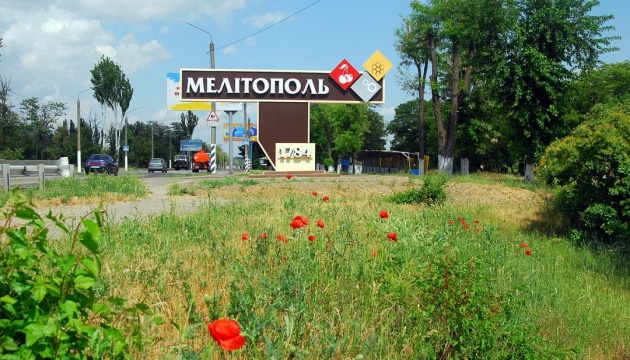 Melitopol mayor sure Russians will not be able to hold pseudo-referendum
Melitopol Mayor Ivan Fedorov has said he believes that Russian invaders will not be able to hold a pseudo-referendum in the city either in October or in November.
He said this in a comment to Ukrinform.
"A month ago, they [the Russians] tried to start the procedure for preparations for the referendum, but they faced two problems. First of all, they could not find the appropriate number of people to work in 'commissions.' […] Secondly, they made the first 'walk' through the apartments and saw the results, which disappointed them, because less than 10% of our residents agreed to participate in the referendum - not to support Russia, but to participate in this fake referendum in general," Fedorov said.
In his opinion, given this, the Russians clearly understand that they will not be able to achieve their goal and crowds of people will not stand near "polling stations."
"As of today, I don't see [the possibility of them] holding the 'referendum' either on September 11 or on October 11. Today they are already talking about November 4. Everything may change in two months. At the front, we see how intensively the Armed Forces of Ukraine are liberating our settlements. Therefore, we hope that on November 4, if any survey is held, it will be a survey held by the Ukrainian sociological services," Fedorov said.
He also noted that those who previously "agreed to provide assistance" to collaborators in the organization of the fake "referendum" now call the Ukrainian special services and are trying to do everything in order to "become an employee of our special services and provide assistance to Ukraine."
Ukraine's Deputy Prime Minister, Minister for Reintegration of Temporarily Occupied Territories, Iryna Vereshchuk, earlier said the pseudo-referendums that Russia plans to hold in the temporarily occupied territories are a crime and participation in them is punishable by criminal liability, so it is better for local residents to evacuate or to avoid participating in them by all possible means.
Oleh Didenko, the head of Ukraine's Central Election Commission, said any pseudo-referendums held by the Russian invaders in the temporarily occupied territories of Ukraine would be illegal, and sanctions should be imposed against those involved in their organization.