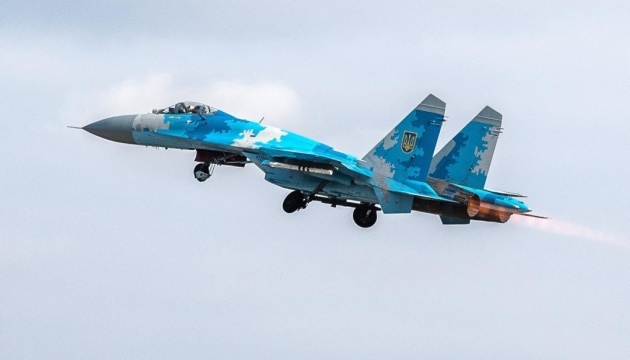 Ukraine's Air Force strikes enemy targets 18 times in the south
Over the past day, Ukrainian defenders have eliminated 102 enemy troops and destroyed five ammunition depots in southern Ukraine, as well as hit a Russian unmanned aerial vehicle (UAV) control center and ferry crossing.
The relevant statement was made by the South Operational Command on Facebook, an Ukrinform correspondent reports.
"In the Southern Bug operational zone, the situation has been stable and challenging but controlled. Ukrainian forces continue to destroy enemy stocks and reserves, hit control posts and keep under fire control transport routes. Enemy troops mostly have low morale but desperately resist. Making attempts to hold the defense on land, the enemy continues artillery and mortar shelling, as well as air and missile strikes not only on our positions but also on peaceful settlements and civilians," the report states.
During the day, with fighter and assault aircraft, Russian troops launched missile strikes on the positions of Ukrainian forces in Kherson Region's Beryslav District. There were no casualties among Ukrainian defenders. Meanwhile, the Ukrainian military hit an enemy assault aircraft. The results are yet to be checked.
Russians dropped 500-kilogram high-explosive bombs on Mykolaiv District, having injured a civilian. They also fired an air-launched missile from the Su-35 fighter at the Bereznehuvate community, but the Ukrainian anti-aircraft defense units shot it down.
In addition, the Air Force of the Armed Forces of Ukraine struck enemy command posts and strong points, ammunition and fuel depots, transport and logistics capacities.
Ukraine's missile and artillery units completed a series of fire missions, having hit nine command posts, two ferry lines, two UAV control centers, air-defense systems and enemy personnel clusters. Ukrainian forces continue to keep under fire control Antonivka Bridge, Kakhovka Bridge and Darivka Bridge.
Over the past day, the enemy's losses have included 102 troops, six tanks, one Msta-B howitzer, one Grad multiple launch rocket system (MLRS), one 120-mm mobile mortar, and eight armored vehicles. The Ukrainian military also destroyed five enemy ammunition depots in Bashtanka District, Beryslav District and Kherson District, an UAV control center near Pravdyne and a ferry crossing near Kozatske.
In the Black Sea, Russia's naval group remained unchanged. Three enemy missile carriers, including a submarine, are kept combat ready, equipped with 20 Kalibr-type cruise missiles.
A reminder that, between February 24, 2022 and September 1, 2022, Russia's total combat losses in Ukraine reached about 48,350 troops.
mk