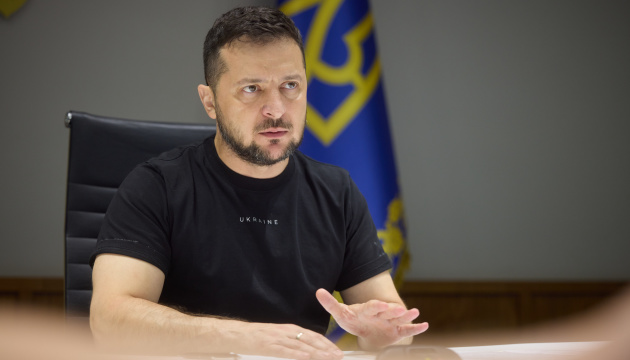 President Zelensky: We will oust occupiers to our border, the line of which has not changed
The occupiers should know: Ukrainians will oust them to the border, the line of which has not changed.
The relevant statement was made by Ukrainian President Volodymyr Zelensky in his video address, an Ukrinform correspondent reports.
The full text of the speech is provided below:
Ukrainians!
Today we honored the memory of our warriors who gave their lives for our state, for our independence.
This day of remembrance is set for the end of summer, August 29, to remind everyone about the tragic events of 2014, about Ilovaisk, about the fact that this war, which began with Russia's occupation of our Crimea, with an attempt to seize Donbas, must end precisely there - in the liberated Crimea, in the liberated cities of Donbas, with our troops reaching the state border of Ukraine.
We have always kept this goal in mind. We do not forget about it.
The Armed Forces of Ukraine, our intelligence, our defense forces are doing their job. I am sure that you all understand what is happening, what we are fighting for and what we are striving for. And our warriors do not need any announcements or information waves in the back.
Ukraine is returning its own. And it will return the Kharkiv region, Luhansk region, Donetsk region, Zaporizhzhia region, Kherson region, Crimea, definitely our entire water area of the Black Sea and the Sea of Azov - from Zmiinyi Island to the Kerch Strait. This will happen. This is ours. And just as our society understands it, I want the occupiers to understand it, too. There will be no place for them on Ukrainian land.
Anyone want to know what our plans are? You won't hear specifics from any truly responsible person. Because this is war. And this is what it is during the war.
But the occupiers should know: we will oust them to the border. To our border, the line of which has not changed. The invaders know it well.
If they want to survive, it is time for the Russian military to flee. Go home. If you are afraid to return to your home in Russia - well, let such occupiers surrender, and we will guarantee them compliance with all norms of the Geneva Conventions.
If they do not listen to me, they will deal with our defenders, who will not stop until they liberate everything that belongs to Ukraine.
And it is not something special. It's not something that supposedly started. We've been talking about it for 187 days.
Today, I held meetings with the military, with representatives of the military-industrial sector, and with government officials. Important meetings, important topics, it is wrong to reveal them. But everyone can see the result over time. When our defenders destroy the logistics, bases, and headquarters of the enemy. We will continue this.
I've made three appeals to foreign partners today.
The first is Norway. I took part in the work of the energy forum, and I would like to thank the Prime Minister of Norway, Mr. Støre, for the new support package for Ukraine - about 200 million dollars as part of the energy preparation for winter.
The second is France. A powerful association of entrepreneurs - hundreds of thousands of businessmen, millions of owners, managers and employees. I am grateful to them for their support and understanding of what we are fighting for in Ukraine, understanding that this struggle is shared by all Europeans.
The third appeal is to the participants of the security forum in Slovenia, in particular, to our friends - the leaders of the countries of Central Europe and the Balkans.
In the evening, I signed a decree awarding our warriors. 141 combatants were awarded state awards, ten of them posthumously.
It is very important - today I had the honor to present the Gold Star Orders to the relatives, families of Heroes perished while performing combat missions.
Eternal memory to all our heroes!
Eternal glory to all those who fight for freedom for our entire land!
Glory to Ukraine!