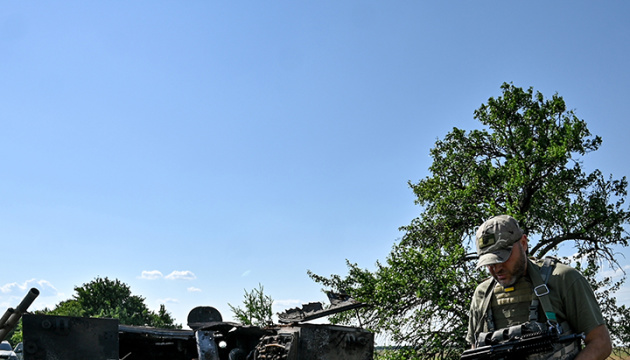 Russia's Uragan, Pantsir systems and 41 troops destroyed in southern Ukraine
The Ukrainian military have destroyed Russia's Uragan multiple launch rocket system (MLRS) and Pantsir-S1 air-defense missile system in southern Ukraine.
The relevant statement was made by the South Operational Command on Facebook, an Ukrinform correspondent reports.
"The Ukrainian aviation launched eight strikes near Novovoznesenske, Blahodativka, Novopetrovka, Liubomyrivka, Ivanivka and Vavylove," the report states.
Ukraine's missile and artillery units eliminated 41 Russian troops and destroyed many military equipment units on the right bank of the Dnieper. The enemy's losses included two unmanned aerial vehicles (UAVs), one T-72 tank, one Uragan MLRS, one Pantsir-S1air-defense missile system, one Nona-S self-propelled air-droppable mortar, one electronic warfare system and six armored vehicles.
"The situation in the Southern Bug operational zone is challenging but controlled. The enemy twice attempted to conduct assault operations in the direction of Vysokopillia-Potiomkyne, had no success and retreated with losses," the South Operational Command added.
A reminder that, on February 24, 2022, Russia started a full-scale invasion of Ukraine. Russian troops are massively shelling and bombarding Ukrainian cities and villages. The Armed Forces of Ukraine, the Defense Forces and all the Ukrainian people are effectively fighting against Russian invaders, inflicting huge losses on them.
mk