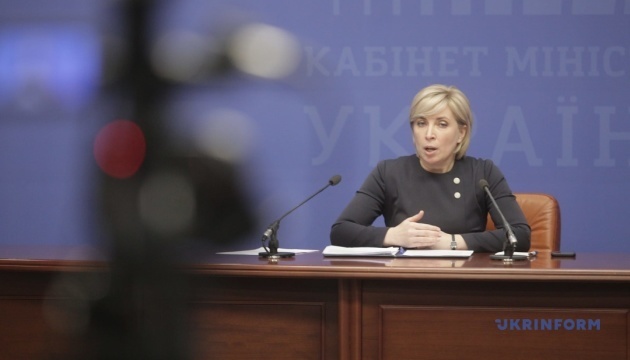 Three more Ukrainian regions to face mandatory civilian evacuation - Vice PM
The government is preparing measures for the mandatory evacuation of citizens from parts of the Kharkiv, Zaporizhia, and Mykolaiv regions.
That's according to Deputy Prime Minister, Minister for Reintegration of the Temporarily Occupied Territories Iryna Vereshchuk, who broke the news during a national telethon, Ukrinform reports.
"Kharkiv, Zaporizhzhia, and Mykolaiv regions are in line for mandatory evacuation. I'm not talking about these entire regions, but parts of them will require evacuation, so we're also preparing for it," Vice PM said.
Vereshchuk reported that, since early August, more than 10,000 people fled the Donetsk region under mandatory evacuation, a third of which were children and more than a thousand - persons with reduced mobility.
"Since the beginning of August, we have managed to evacuate more than 10,000 people from Donetsk region. A third of them are children. More than a thousand are people with limited mobility and the elderly: this is very important because they will definitely be in mortal danger during the winter in Donetsk region," Vereshchuk said.
The minister noted that there have been no formal refusals to evacuate, but residents of Donetsk region hesitate to leave their homes.
"Do people refuse? At least formally, I haven't seen any refusals yet. However, people say, "we still need to harvest our crops," "let's wait until the cold," and "we don't know what awaits us there," the official recalled.
In response to these doubts, Vereshchuk assured the residents that the government would provide transportation, accommodation, food, and medical services – everything necessary for surviving winter – completely free of charge.
"There is material support. If it is a mandatory evacuation, it's UAH 2,200 for each person immediately upon the arrival of the train, as well as UAH 2,000 for each adult, UAH 3,000 for each child or person with disabilities. Everyone will receive the necessary minimum, taking into account that housing and food will be free," Vereshchuk emphasized.
As Ukrinform reported earlier, almost 35,000 people, 10,000 of them children, were evacuated from Kherson, Donetsk, Zaporizhia, and Luhansk regions since August 1.