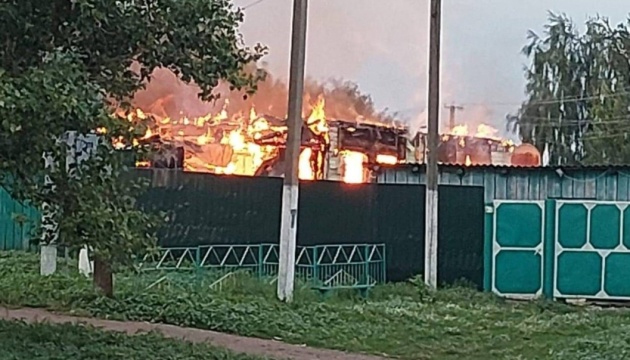 Children among injured as Russians shell four districts in Dnipropetrovsk region
Overnight Thursday, August 25, Russian troops continued shelling Dnipropetrovsk region, leaving eight people, including three children, injured in the Synelnykove district.
The head of Dnipropetrovsk Regional Military Administration, Valentyn Reznichenko, reported the news on Telegram, according to Ukrinform.
"The Russian army shelled four districts - Synelnykove, Nikopol, Kryvyi Rih, and Dnipro," the report says.
According to Reznichenko, after midnight, the enemy struck the Synelnykove district for the fourth time in the past day. Several buildings were destroyed in Velykomykhailivka. Eight were injured. Among them are three children. The youngest girl is only 2 years old. Everyone is now in the hospital.
Search and rescue operations are ongoing in the village of Chaplyne, where the Russian strike on Wednesday took the lives of more than 20 people, among them two boys, 6 and 11. They were just playing at home when Russian missiles flew in. The police have opened criminal proceedings regarding the violation of the laws and customs of war.
The head of the local administration said that the Nikopol area was shelled three times with the Russian Grad MLR systems and heavy artillery. Eleven shells landed in Nikopol and the Marganets community. There were no casualties.
The Kryvyi Rih district was shelled by Russian Uragan and Smerch MLR systems. Apostolivska and Shyrokivska communities were hit. The village of Koshove was left in a blackout. Several rockets also landed in one of the districts of Kryvyi Rih. Several households were destroyed. No one was injured.
The Russians rocket launched at the Dnipro region was shot down by the Ukrainian military.
As reported by Ukrinform, on August 24, Russian troops shelled the Synelnykove district in the Dnipropetrovsk region. The missile hit a household, killing a 11-year-old child.
Later, Russian troops launched a missile attack, hitting a number of passenger cars at the Chaplyne railway station in Dnipropetrovsk region. Twenty-two people died in the strike.