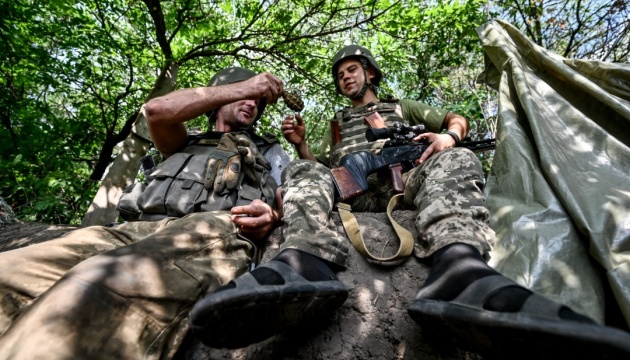 'Eyes' of artillery on the approaches to Zaporizhzhia
We meet them at the positions, which are not far from one of the occupied settlements in Orikhiv District. The enemy is just three or four kilometers away from here.
Most servicemen of Vasylivka Territorial Defense Battalion came from the temporarily occupied settlements, such as Enerhodar, Dniprorudne and Kamianka. The former miners and nuclear power engineers now make every effort to hold the enemy back.
Literally half an hour before our arrival, the Russian aviation launched strikes close to their positions. We learned about that from the military themselves, and later the General Staff of the Ukrainian Defense Ministry posted relevant information in its report.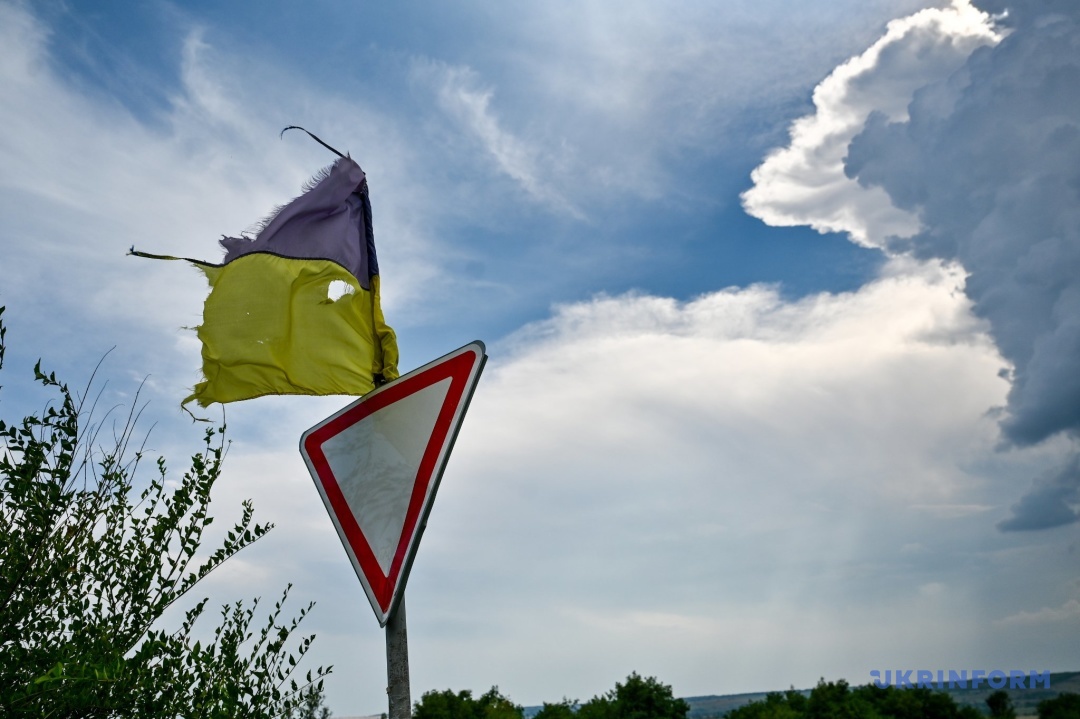 "Here, the situation is challenging but controlled. Our units attempt to push the enemy away from the positions they hold, but it is difficult to do. The enemy also attempts to attack but fails. Talking of the military situation within Zaporizhzhia Region, it is the most challenging in the Zaporizhzhia direction. Continuous shelling is underway. Our air reconnaissance means are working; anti-aircraft defense units are controlling the sky. The Ukrainian military consistently shoot down both aircrafts and helicopters of the occupation troops here. Hence, the front line is under our control," Press Officer of Zaporizhzhia Separate Territorial Defense Brigade Andrii Bystryk told us, as we were moving to the meeting point.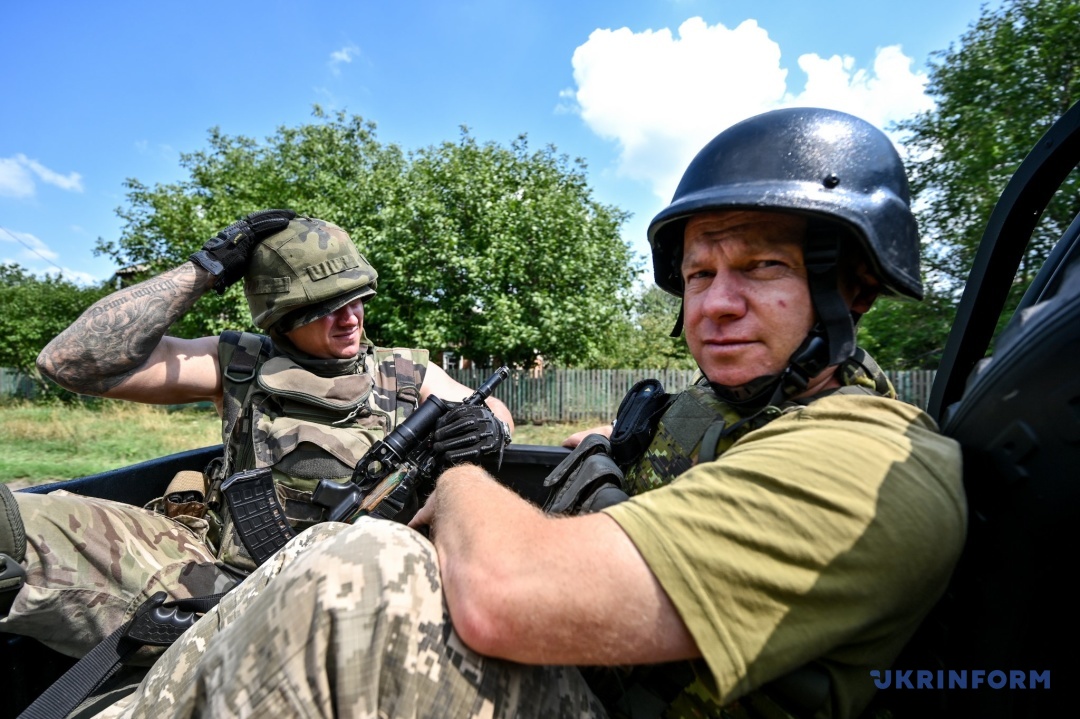 'ARMY CANNOT WIN WITHOUT PEOPLE'
The Executive Officer of Vasylivka Battalion uses the call sign 'Mazhor'. He is a military professional, naval officer of the former USSR. Back in 2014, he came as a volunteer fighter to the military commissariat. In 2015-2016, he did military service in the 54th Mechanized Brigade. In 2018, he retired, but returned to service on February 24, 2022.
"At 05:00 a.m., I was already at a military commissar's office in Enerhodar. I came from Znamianka, but have been here without days off for more than six months now," the military says.
He openly says that now, as his village is under Russian occupation, it is more difficult for him to conduct war than it was in 2015-2016.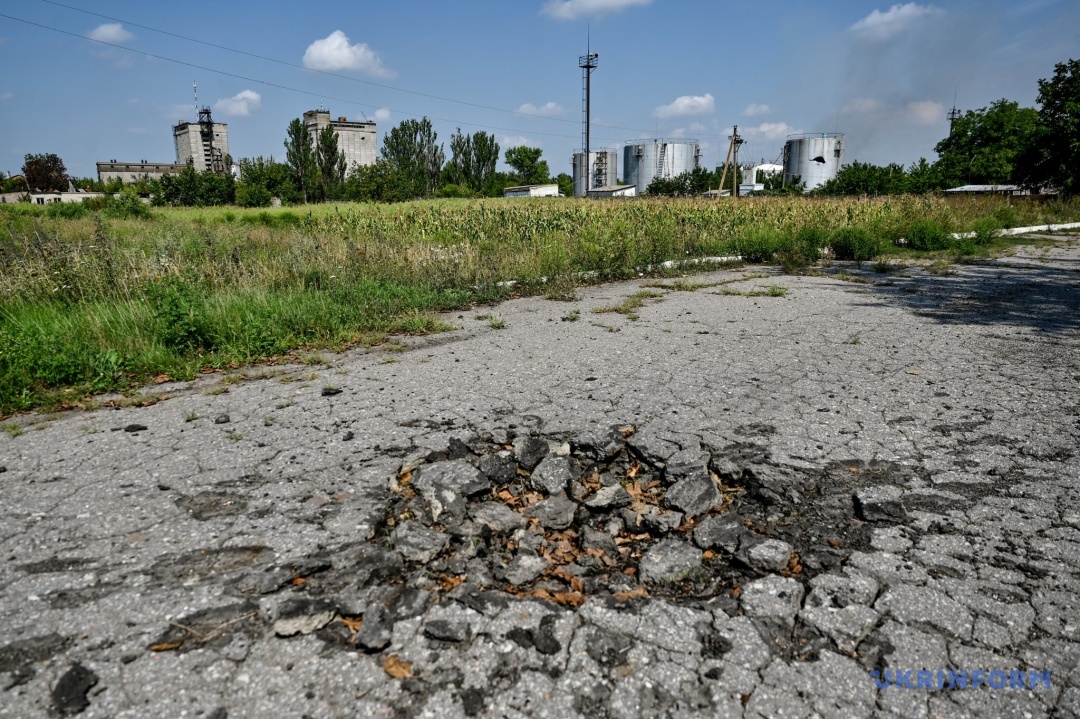 "At that time, I knew that my family, parents and house were safe. It is more difficult to fight now, as we know our settlements have been seized, and we have our loved ones there. I think every serviceman feels it now. Has the enemy become more evil? I think they have always been like that. It is just that Zaporizhzhia Region's residents used to learn about this from our stories or news only. But, nothing has fundamentally changed for us over these years: the enemy was destroying our villages, opening fire on our positions from residential areas then, and so it is now. And we could not respond, as they hid behind civilians. They mercilessly tortured and murdered people, and they are doing so today. There is information that enemy forces have taken civilians from Enerhodar, Kamianka and Znamianka hostage. We are fighting against not an army but an armed gang of terrorists, who do not follow the rules of warfare and international humanitarian law. They are bandits that need to be eliminated," the Executive Officer of Vasylivka Battalion tells.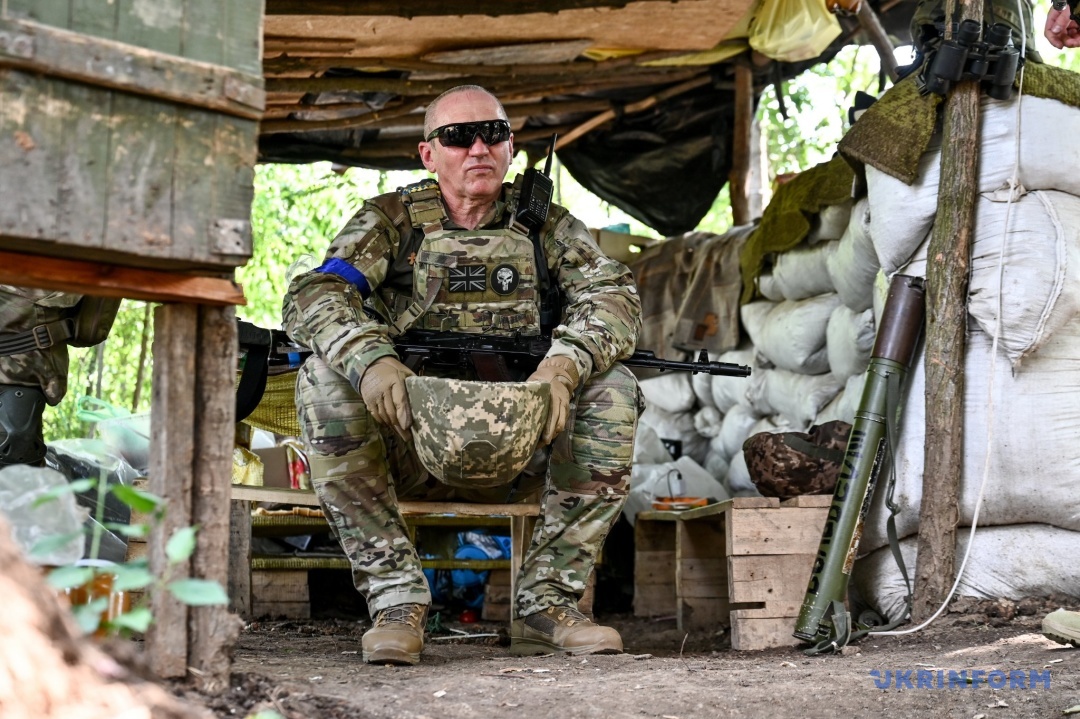 In his words, the Orikhiv direction is very important; the enemy is spreading fakes that Zaporizhzhia will be seized on September 1, but he quickly adds: "We firmly defend the direction and even launch counterattacks".
"In fact, the enemy has multiplied strikes not so much on military positions but on settlements. They open fire on Orikhiv, Komyshuvakha, Tavriiske – all villages. Moreover, they insidiously attack civilians and infrastructure facilities: power transmission lines, transformer stations, silos. A large silo in Orikhiv has been destroyed completely. The enemy makes every effort to demoralize people. Now there is a war of annihilation. The army cannot win without people. If people do not endure, we will cease to exist as a nation. We simply will not be here," the interlocutor continues.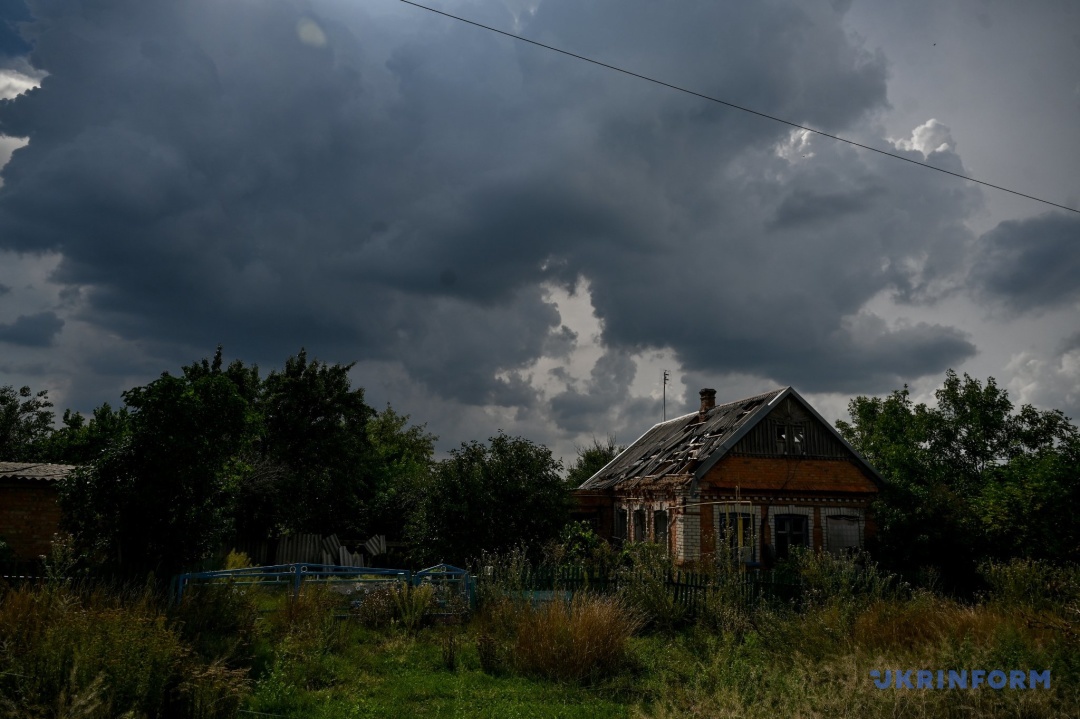 He talks about the challenging days of the war – when they were losing soldiers. 'Mazhor' says it is very difficult, when people from your battalion die, and you are responsible for them. But, the war is a sort of 'job' that you need to complete, having overcome your fears.
"We have one motivation: we need to liberate Ukraine from the occupier, and this is the only thing that unites us. We will drive the enemy out, come back home and live our lives. I want my granddaughter to not hide in basements but laugh," the military says.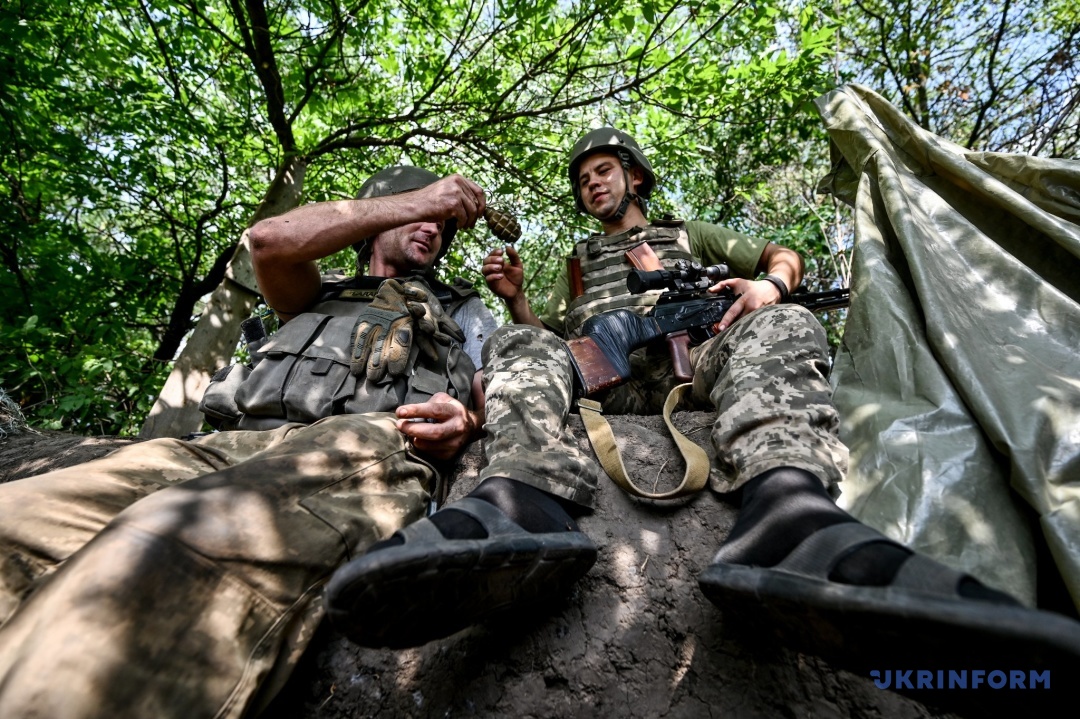 WAR IS ABOUT NOT SHOOTING BUT TECHNOLOGIES
Meanwhile, a serviceman using the call sign 'Bdzhola' joins the conversation. He is a professional beekeeper [bdzhola is a Ukrainian word for a bee – Ed.]. Prior to the war, he worked as a miner in Dniprorudne. He has an apiary of more than 100 beehives. In his words, both Ukrainians and Europeans tasted his honey.
He did not have time to evacuate his apiary, as he had joined the ranks of the Territorial Defense Forces since February 24, 2022. Now his friend, a pastor whom he taught beekeeping in peacetime, takes care of his beehives, bees and honey.
"On February 24, when everything started, I just finished my shift and left the mine, – and six missiles flew through our village. I immediately made a decision, took a rifle at home and came to a military commissar's office, and here I am," the fighter tells.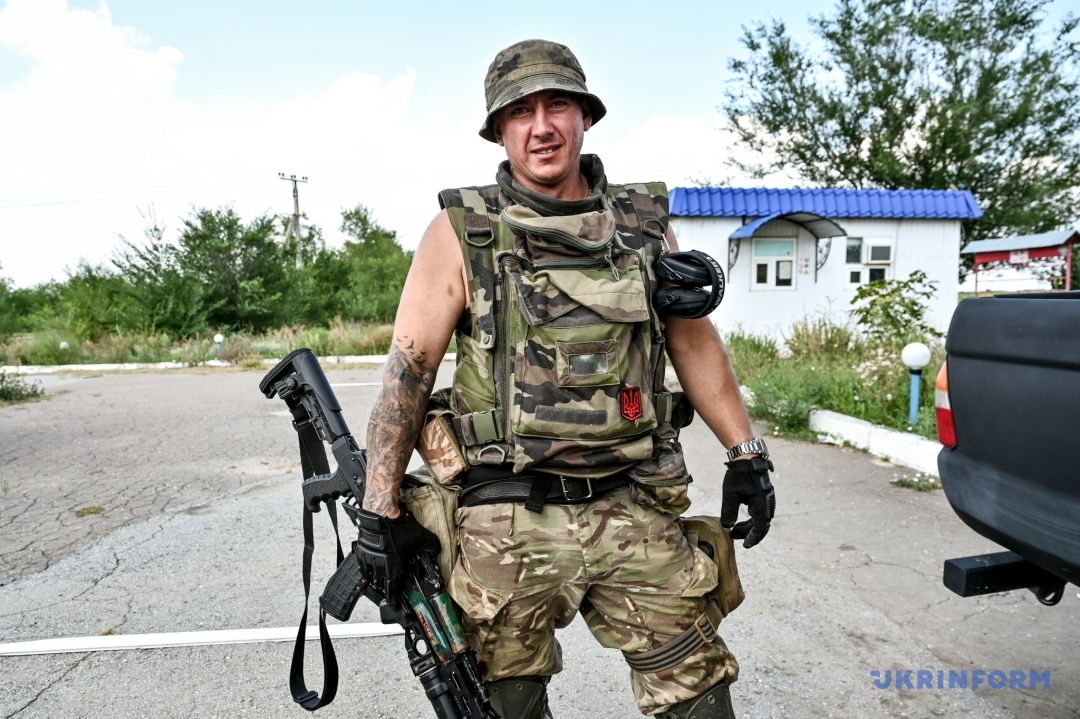 He has switched to the Ukrainian language since the first days of the full-scale war, and even… has got married at the front. The wedding took place on August 16. His wife Tetiana came from Enerhodar (a city, which is now under Russian occupation too). She serves as a company medic, using the call sign 'Holka' [holka is a Ukrainian word for a needle – Ed.].
'Bdzhola' tells us how he was entering one of the key positions with his comrades-in-arms, where they needed to gain a foothold. He says the mission was challenging, and then, before entering the position, he made a proposal. Tetiana said 'yes'.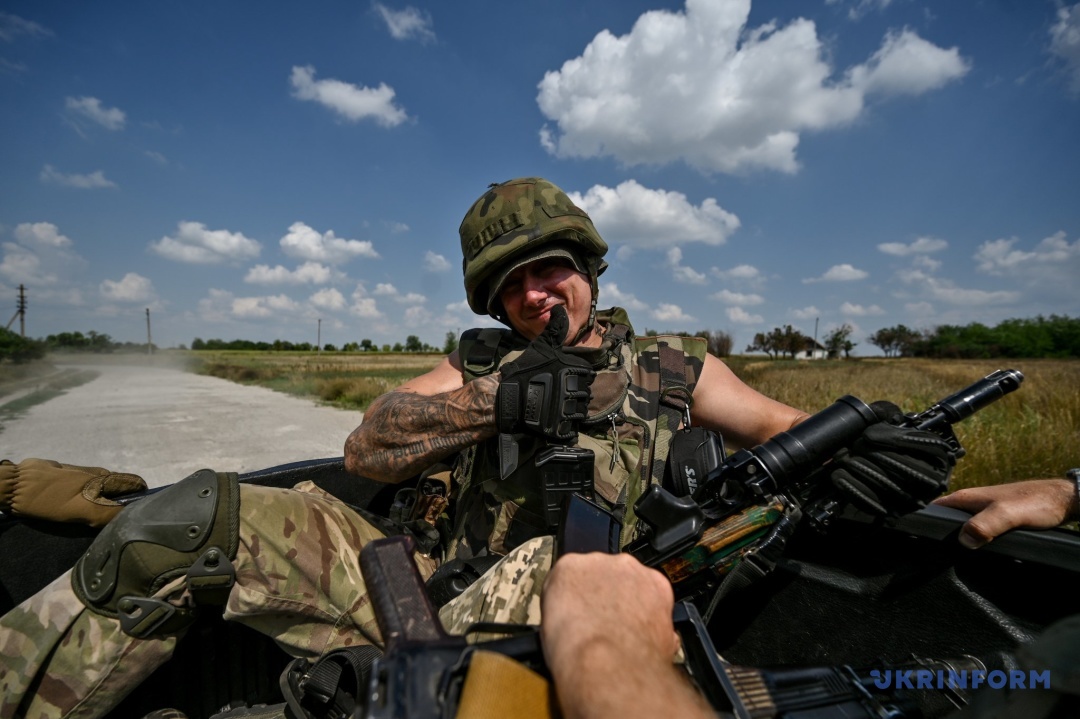 "I had been divorced for more than a year, and generally I had no intention to get married again. I lived by war and thought about victory only, and suddenly – love," 'Bdzhola' says.
At a family meeting, it was decided that he would wear the wedding ring on a chain around his neck, so as not to lose it during combat missions. He got a tattoo in honor of his love – a needle and a kiss (a real imprint of his wife's lips), – and she got a tattoo of a bee.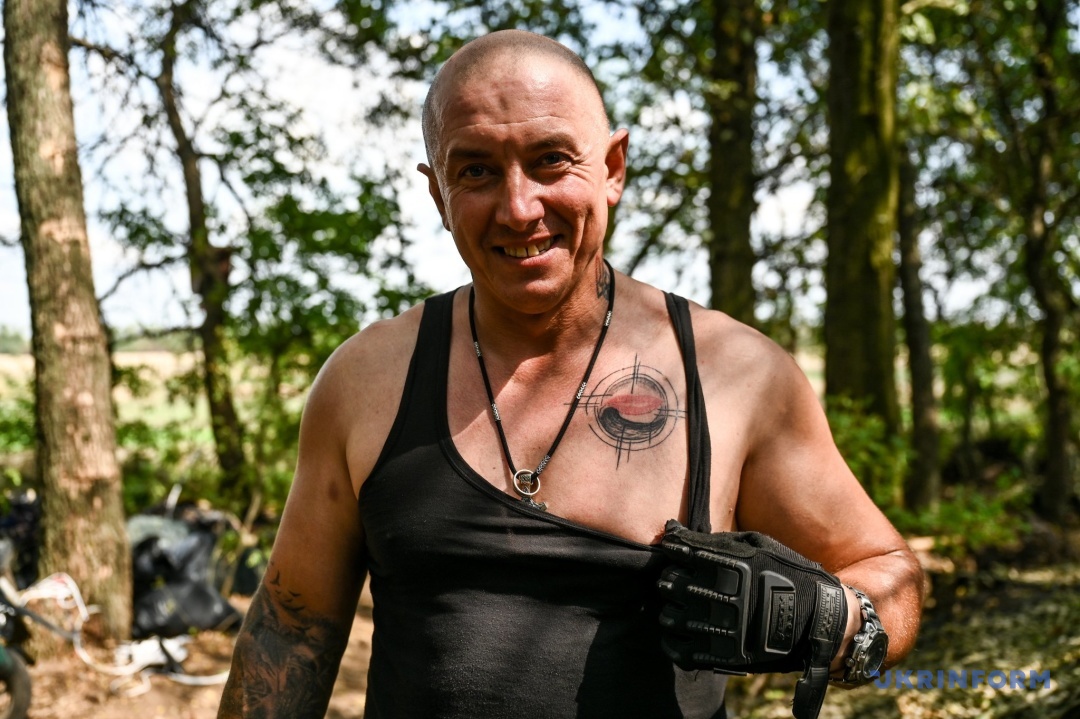 At the front, 'Bdzhola' gives cover to a drone operator, delivers ammunition to the 'hot' directions, and will soon begin studies, as he wants to operate an unmanned aerial vehicle (UAV).
"Prior to that, I imagined war differently. I thought it was more about shooting, and the war turned to be about tactics, technologies and intellect. Thanks to the 'eyes' [drones and other UAVs are called so – Ed.], it is possible to ensure personnel safety. Previously, reconnaissance groups were used, it was risky, and now drones can do everything," 'Bdzhola' says.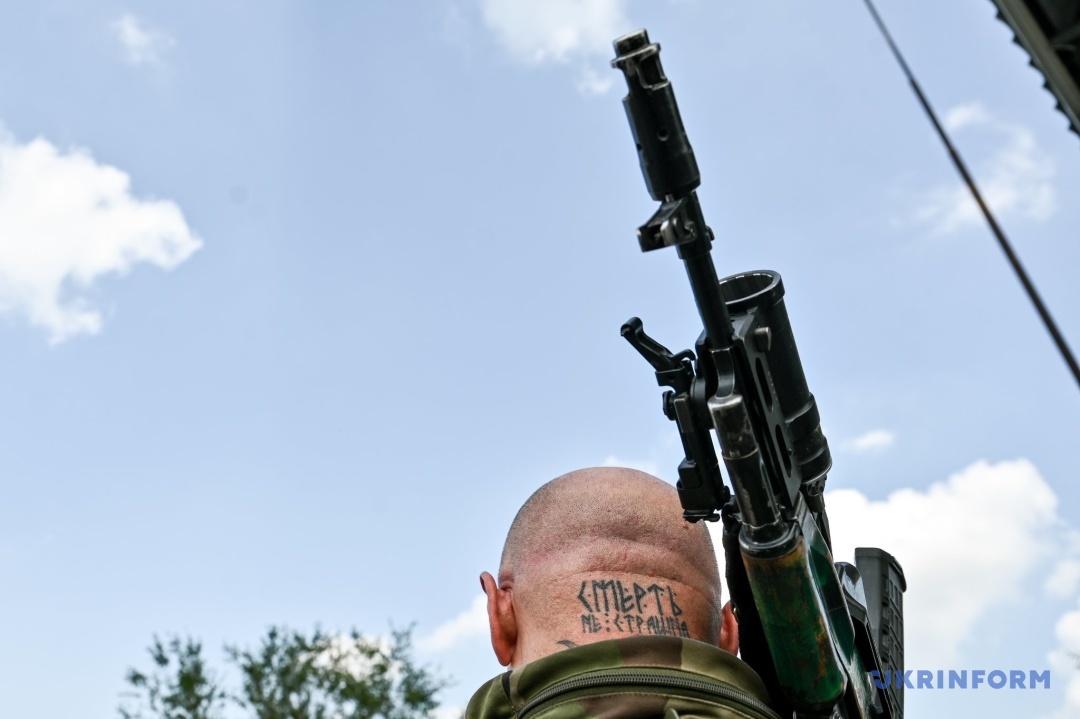 The man adds that even if a drone happens to be lost, it is just about money, but people will be saved. He remembers how, during the first days, as they just entered these positions, they had to go through a section in the gray zone. At that time, they had to go past the enemy's trip wires on their own, and now drones can help with this.
"The war of drones from both our side and theirs. I will study, although I understand it is difficult," 'Bdzhola' says.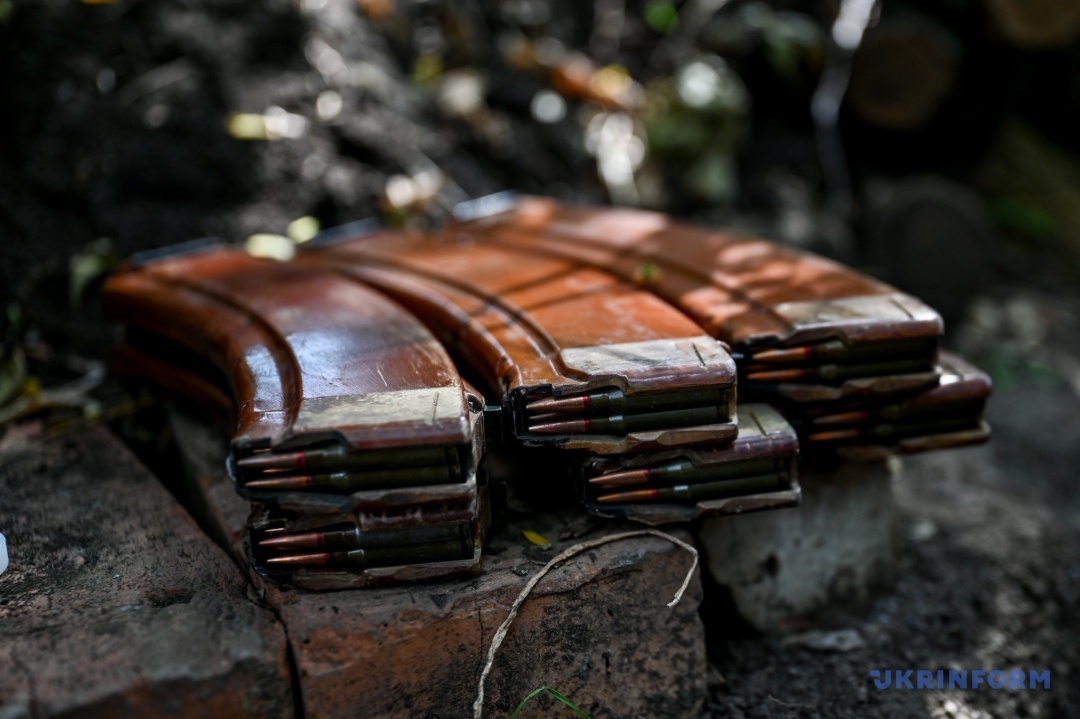 As we talk, we can continuously hear explosions. The military say there is hardly any silence in this direction. The enemy literally covers settlements with projectiles.
The company commander, using the call sign 'Balu', adds the enemy is very afraid of losing positions and, thus, opens fire more frequently.
"Self-propelled artillery systems are the most dangerous, in my opinion. Every day shelling – it is like saying 'good morning' at 4 o'clock," 'Balu' says.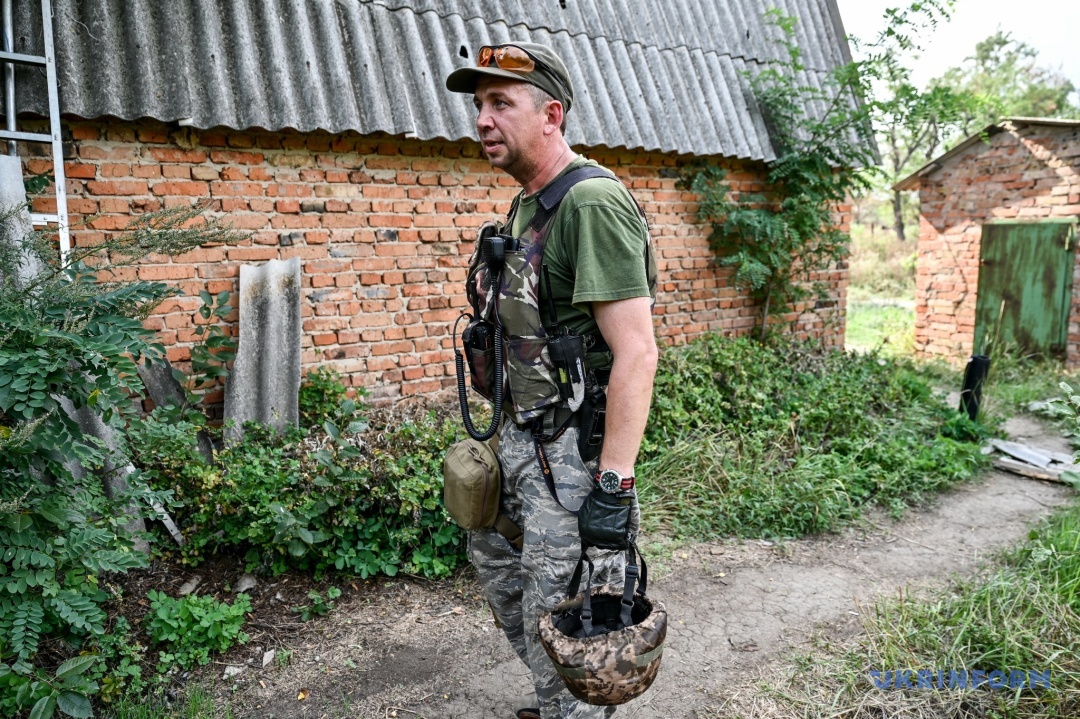 He is also a miner, who came from Dniprorudne. His family had spent about two months under Russian occupation.
"The most difficult moment was as I was already at the front, and my family remained in the city seized by the enemy. And it was unclear what, who, to whom and when will tell," he says, meaning the collaborators.
I ask them how many hours a day they can sleep, considering a tense situation.
'Bdzhola' smiles at me and says: two-three hours, sometimes a little longer if they are lucky. Also, honey helps them to recover strength.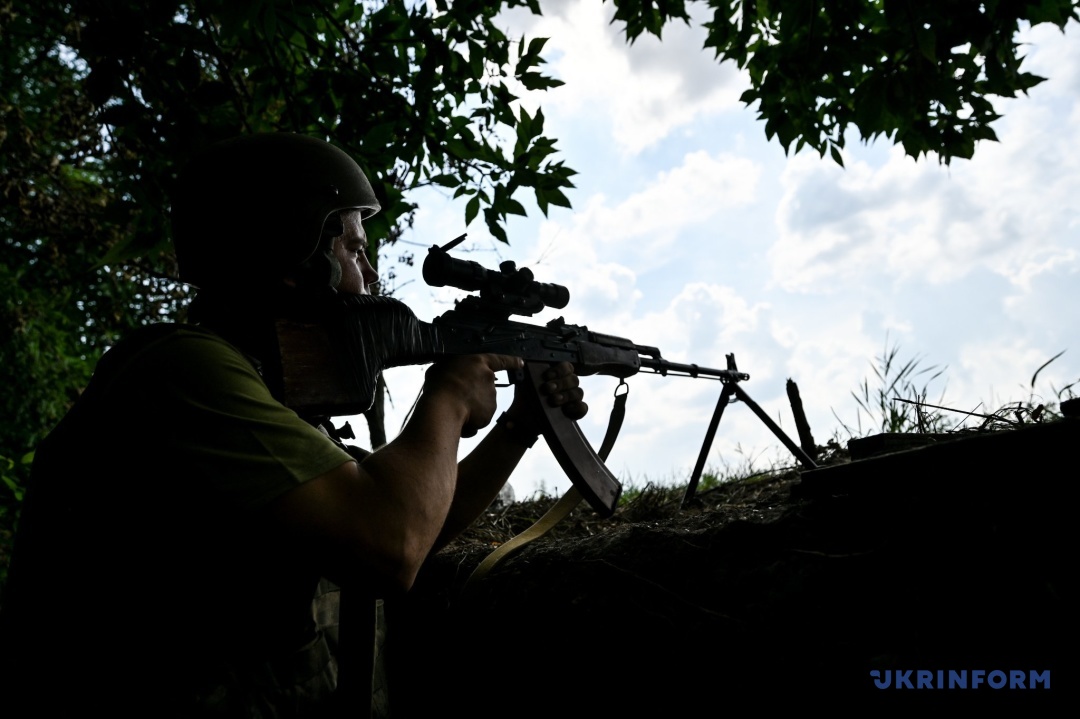 WAR OF DRONES
The military believe the best UAV operator is their comrade-in-arms, using the call sign 'Sviat'. He is an operator of drones and has a whole 'flock of birds'.
'Sviat' came from Enerhodar. Prior to the war, he worked as a senior operator and reactor building engineer. Now he conducts air reconnaissance, adjusts fire from our mortars, self-propelled artillery, SPG-9 guns, and drops 'gifts' for enemy units.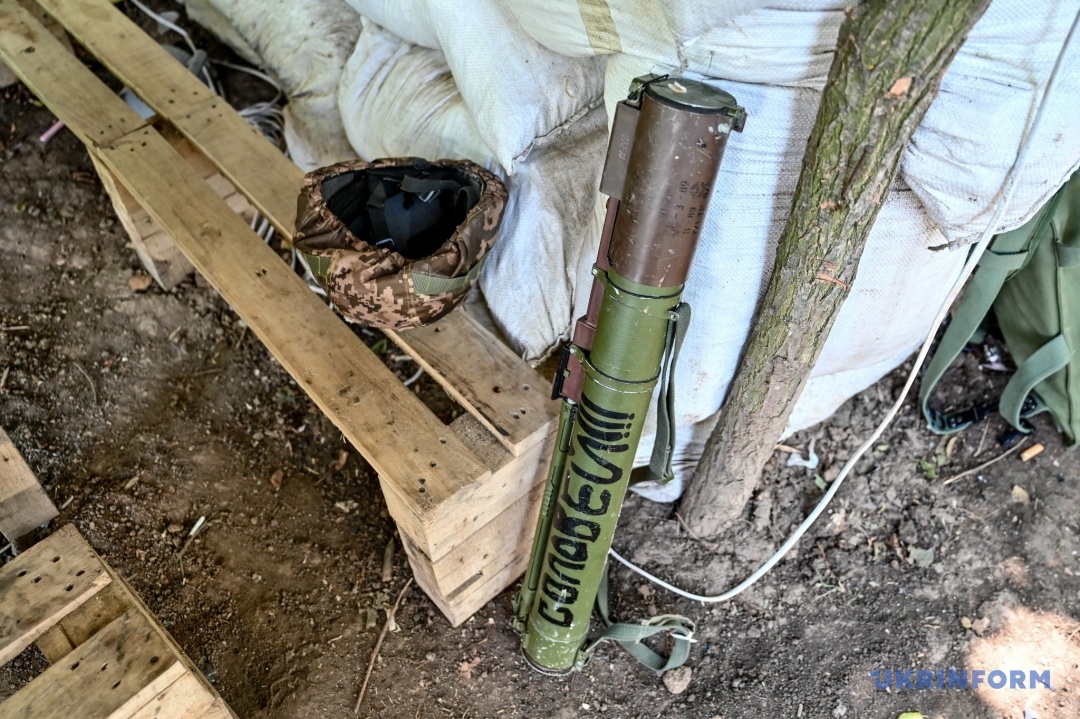 He learned to operate drones during the war: completed a training course at the front and received a certificate.
"Why did I choose UAVs? Because it is difficult, interesting, and it is the future of war. Drones fly forward, destroy everything, leave nothing behind. Artillery cleans up on 'tips', and soldiers will not practically meet face to face. The war will be so… and it is already like that. Kamikaze drones, drones dropping 'gifts' are the future," he says.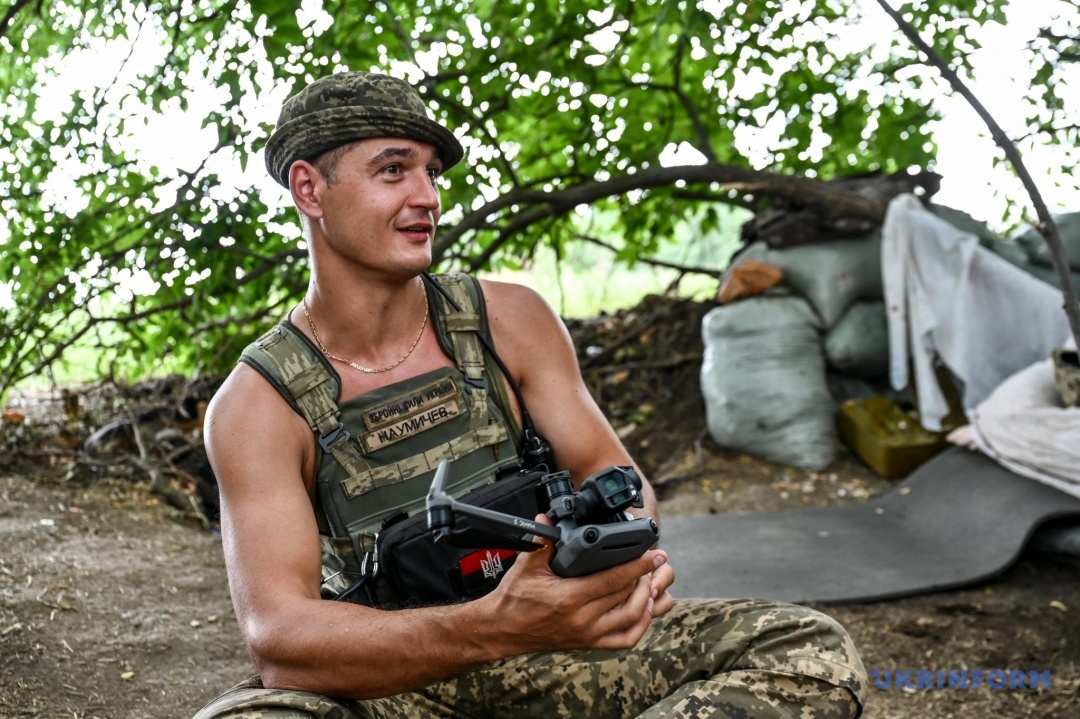 'Sviat' shows his 'weapons'. Some drones were presented by volunteers. He says he could never think he would be involved in such activities.
"Where am I, where are drones, and where is the war – that's how it used to be, but now the concept has slightly changed," he says.
On TikTok, 'Sviat' posts different videos about situations from the life of the military. One of them (about false military positions) generated over 2.5 million views.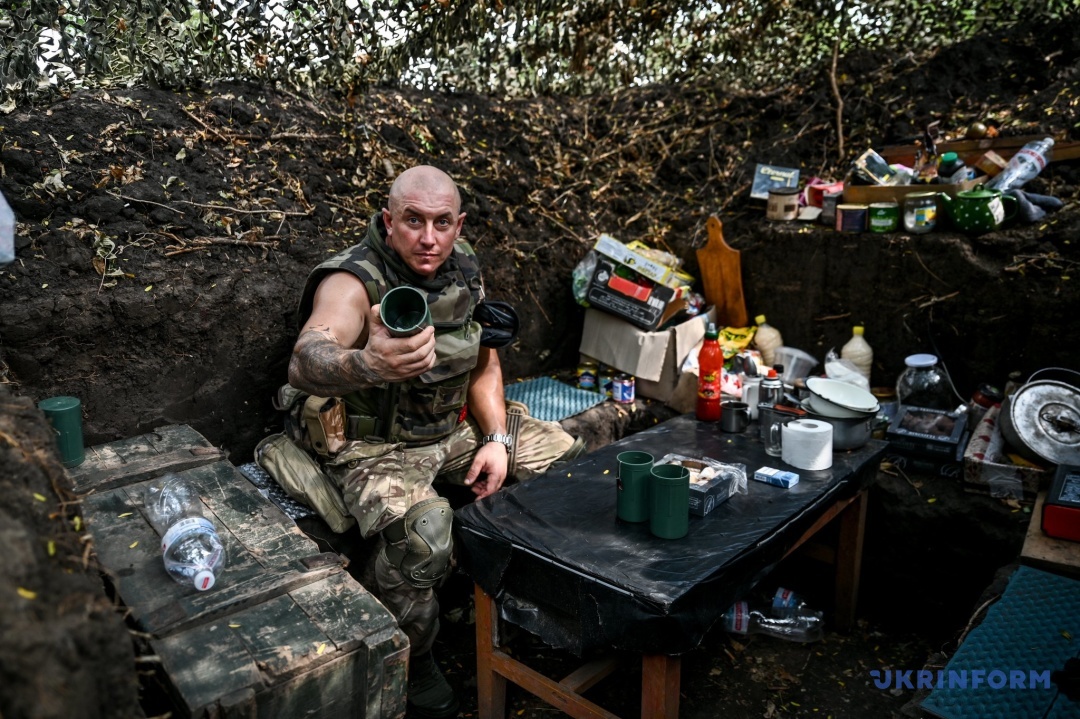 The military showed us their 'trench' kitchen and offered tea. By the way, instead of teacups, they use SPG-9 caps.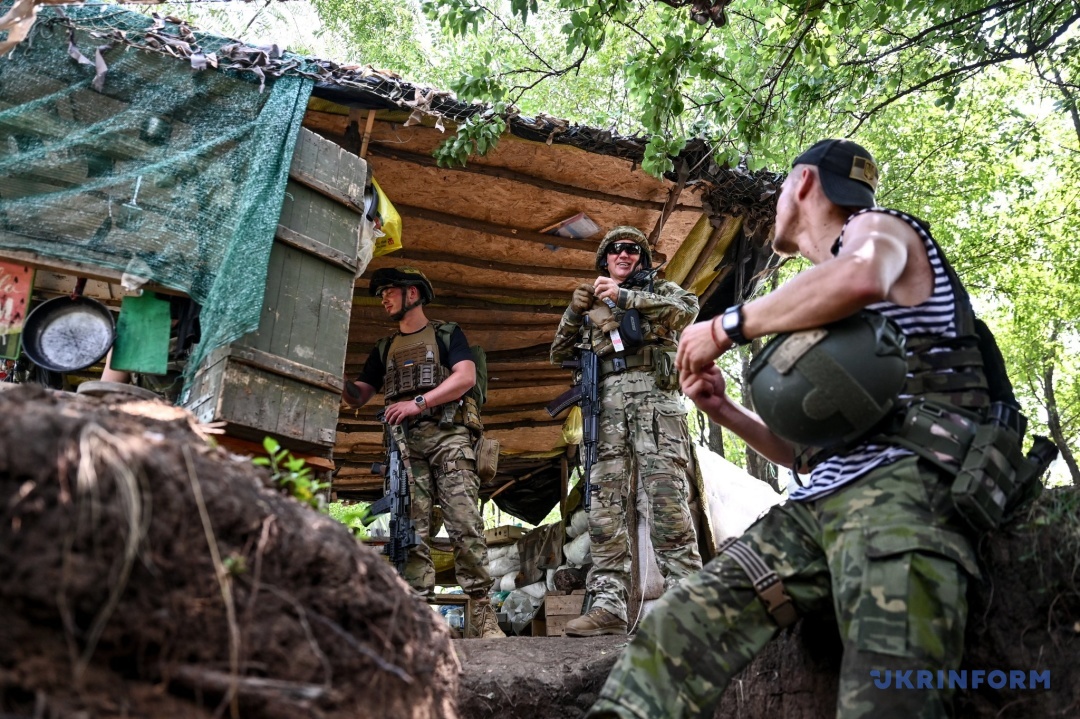 WHAT THE MILITARY DREAM OF
As we talked, I asked each of them: "What will be your first thing to do after the victory?".
"I think I will meet with those who happen to stay alive, and will go to Lviv, to my granddaughter," 'Mazhor' said.
"Wow, I have never even thought about that. I will continue to live my life as it was prior to the war. However, it is far from certain, as every day lived will never be the same as the previous, and we will be different as well," 'Sviat' replied.
"I will restore my apiary and send honey throughout Ukraine. Well, and Europe too," 'Bdzhola' added.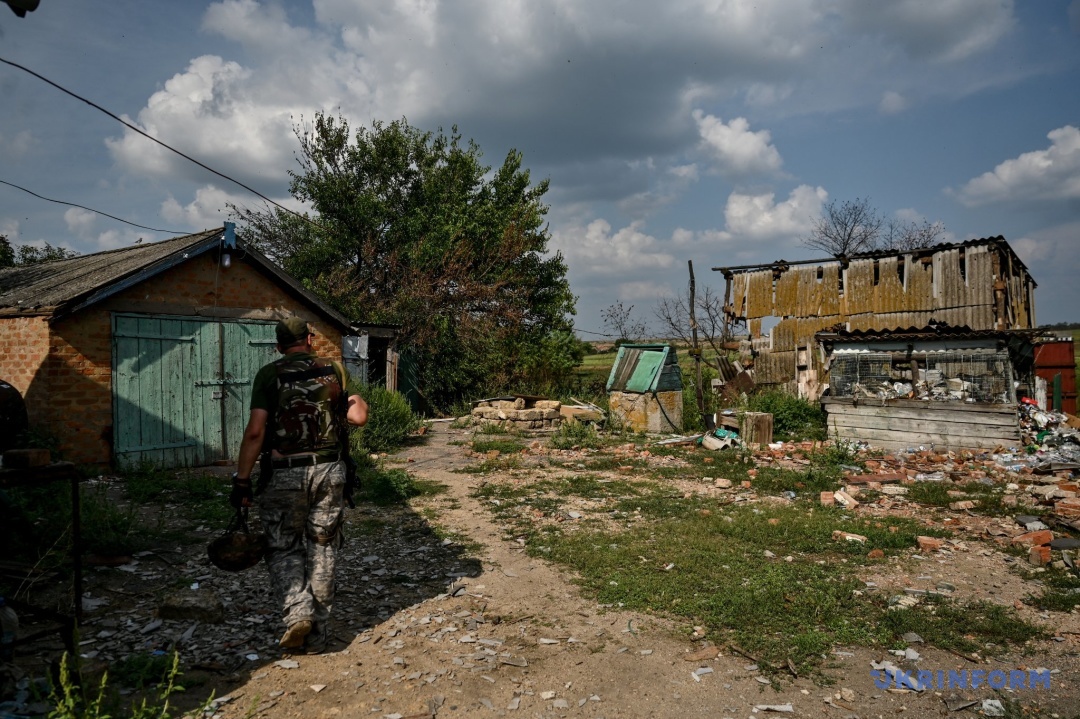 'Balu' simply said: "I will return home".
As the military shared their plans for the time after the victory, they were smiling, but some of them also had tears in their eyes. Above all, they want not only to hold the enemy back but liberate every seized village and bring back homes for those who had to flee from the war, like their relatives.
Olha Kudria, Zaporizhzhia
Photo: Dmytro Smolienko