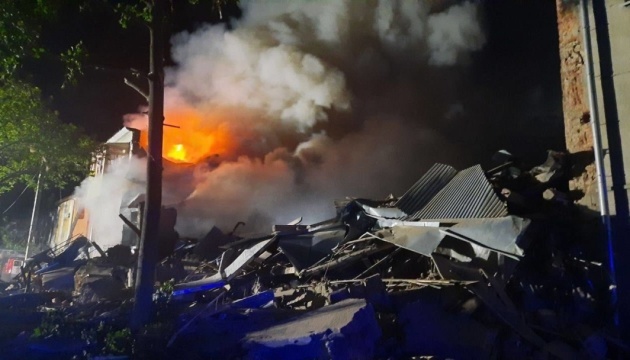 Eight victims of missile attack on residential building in Kharkiv yet to be identified
Eight of the 18 victims of a Russian missile attack on a three-story residential building in the Saltivsky district of Kharkiv late on August 17 have yet to be identified.
Dmytro Chubenko, spokesperson for the Kharkiv Regional Prosecutor's Office, told this to an Ukrinform correspondent.
"Three more bodies were found during a search operation on August 20. Among the dead is a labor teacher from a nearby school. He was 34 years old. The body of a 39-year-old woman from Lviv was also discovered under the rubble. One body found yesterday cannot be identified - it is only a very badly damaged torso. In total, eight bodies have not been identified," Chubenko said.
According to him, rescuers are continuing to clear the rubble.
As Ukrinform reported earlier, on August 17 at around 21:30, a Russian Iskander missile hit a three-story residential block in the Saltivsky district of Kharkiv, completely destroying the building and causing a large-scale fire. According to the local officials, the destroyed building was a former dormitory for people with hearing impairments, which was serving as a regular residential block. Among the rescued are people with disabilities and children.