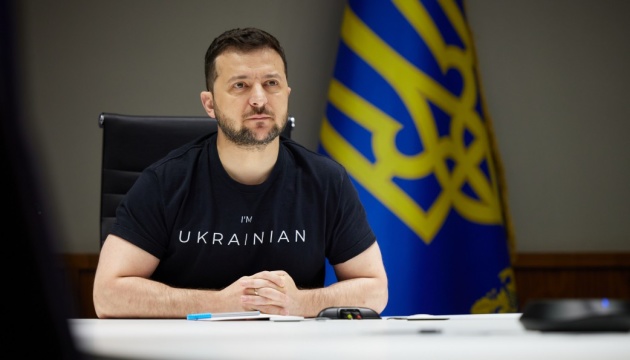 President Zelensky: Russia may try to do something particularly cruel next week
Next week, as Ukraine will mark Independence Day, Russia may try to do something particularly nasty and cruel, and it is important to not give in to the enemy pressure.
The relevant statement was made by Ukrainian President Volodymyr Zelensky in his video address, an Ukrinform correspondent reports.
"We should be aware that this week Russia may try to do something particularly nasty, something particularly cruel. Such is our enemy. But in any other week during these six months, Russia did the same thing all the time – disgusting and cruel," Zelensky said.
In his words, all Ukrainians must be strong enough to resist any enemy provocations – as much as it takes to make the occupiers answer for all their blows and terror: for Kharkiv and Donbas, for Azovstal and Mykolaiv, for the filtration camps, for Bucha , Irpin, for all cities.
"We must all be strong enough to endure and go all the way to Ukrainian victory," the President of Ukraine noted.
According to Zelensky, during these 178 days, the Ukrainian people, Ukrainian defenders proved to be invincible.
"Our unity, our faith in ourselves made it possible to pass these six months and approach this week, which is always important for every Ukrainian. We have always said and we say honestly: for the sake of Ukraine's victory, we still need to fight, we still need to do a lot, we still need to persevere and endure, unfortunately, a lot of pain. But Ukrainians can feel proud of themselves, their country, and their heroes," Zelensky stressed.
A reminder that, on February 24, 2022, Russia started a full-scale invasion of Ukraine. The Defense Forces of Ukraine are fiercely fighting against Russian invaders.
Photo: Office of the President of Ukraine
mk