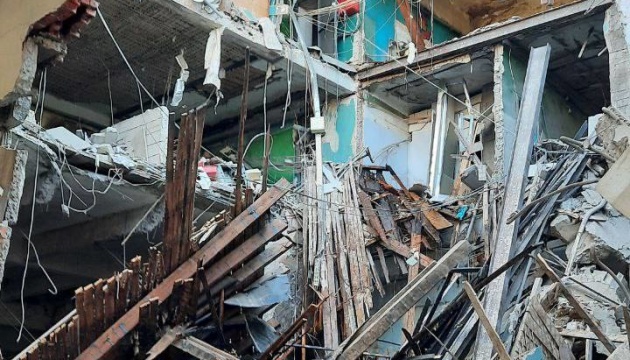 Death toll in missile strikes on Kharkiv dormitory, residential building rises to 21
In Kharkiv, the number of those killed in Russian missile strikes on a residential building and dormitory on August 17 and 18 has increased to 21.
Dmytro Chubenko, the spokesperson for the Kharkiv Regional Prosecutor's Office, told an Ukrinform correspondent.
"In the building in the Saltivskyi district, 16 dead have already been reported. Rescuers recovered the body of a 50-year-old woman. The last body, probably of a man, was found. it is being established. In the Slobidskyi district, search and rescue operations have ended. The final figure is five dead," Chubenko informed.
As reported, at around 21:20 on August 17, a Russian Iskander missile hit a three-storey residential building in the Saltivskyi district of Kharkiv. The strike completely destroyed the building and cause a huge fire.
At around 05:00 on August 18, the Russian military launched a missile strike on the Slobidskyi district. Two S-300 missiles hit a tram depot, damaging a repair shop and dormitory.
As of the evening of August 18, 17 people, including a child, were reported killed. More than 40 people were injured.
On the morning of August 18, the enemy also launched a missile strike on the city of Krasnohrad, killing two people and injuring three more. The shelling destroyed private residential houses and damaged 10 other buildings.
On August 19, Kharkiv announced a day of mourning for those killed enemy missile strikes.
iy