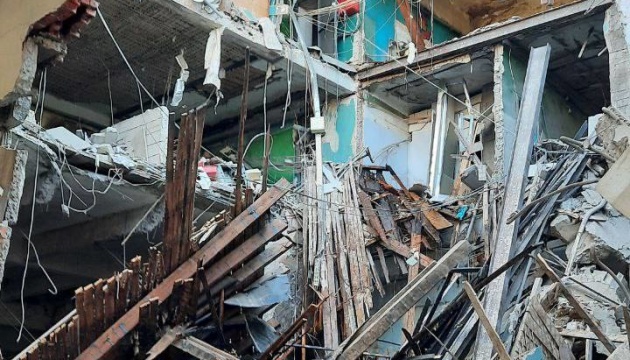 Nine civilians killed, 35 injured in Russia's shelling of Kharkiv
Last night has been one of the most tragic for Kharkiv Region since the Russian invasion started. Russian invaders launched rocket attacks on residential houses, leaving nine civilians killed and 35 injured (including three children).
The relevant statement was made by Kharkiv Regional Military Administration Head Oleh Syniehubov on Telegram, an Ukrinform correspondent reports.
"During the night, Russians launched massive rocket attacks on Kharkiv. Russian terrorists again targeted peaceful 'sleeper' neighborhoods with civilians," Syniehubov wrote.
Around 09:30 p.m., a Russian missile, presumably launched from the Iskander system, hit a 3-storey house in Saltivskyi District. The house was destroyed nearly completely, and a huge fire broke out. According to the latest data, seven civilians died under the rubble and 17 were injured, including an 11-year-old child.
Around 04:30 a.m., Russian troops fired eight more missiles from Belgorod at Kharkiv Region. Enemy projectiles hit Kharkiv's Kholodnohirskyi District and Saltivskyi District, causing damage to buildings and infrastructure facilities, and resulting in fires.
"In Slobidskyi District, one of missiles hit a 4-storey dormitory. The building was destroyed partially. At the moment, two civilians were reported killed and 18 injured, including two children. The final effects are yet to be reported. All special services are working at the scene," Syniehubov noted.
In addition, around 04:00 a.m., Russian troops launched a missile attack on the city of Krasnohrad. Over 10 residential houses were damaged, and some houses were destroyed. Two civilians were killed and two injured, including a 12-year-old child. The details are yet to be updated.
According to Syniehubov, hostilities are underway at the contact line. Enemy troops attempted to attack the positions of Ukrainian defenders but suffered losses and retreated. Now Russian occupiers are focusing efforts to maintain the captured frontiers and shelling the Ukrainian positions with multiple launch rocket systems (MLRS) and artillery.
Photo: Oleh Syniehubov, Telegram
mk