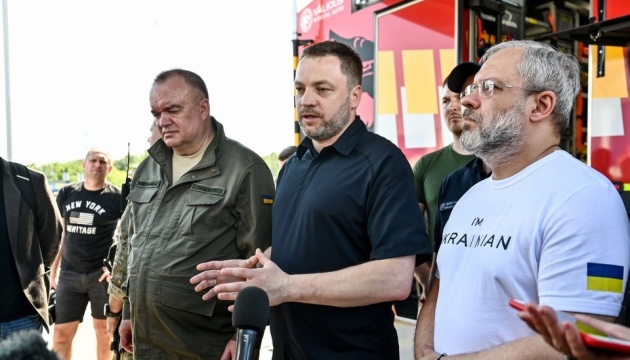 Minister Monastyrsky: Russian-captured ZNPP being militarized heavily
The situation at the Zaporizhzhia NPP captured by the Russian military is worsening. Instead of demilitarizing the facility, it is heavily militarized.
"Actually, the trend is getting worse. We do not see any steps – neither public nor actual – towards demilitarization. On the contrary, the plant is heavily militarized, as it once happened with the occupied Crimea," Minister of Internal Affairs of Ukraine Denys Monastyrsky said during a visit to Zaporizhzhia, answering Ukrinform's questions.
He also noted that when the NPP had been controlled by Ukraine, the perimeter of the plant had been clearly defined, military personnel and weapons had not been allowed in its territory, only specialists of the plant had stayed there. The outer circle was defended by the military. After the plant was captured, the rules have been violated completely.
"That is, where there must be no military personnel and especially their dangerous equipment, according to all international conventions and rules, they are present. Therefore, the trend is extremely negative. I would say it is critical," Monastyrsky said.
Petro Kotin, Head of the National Nuclear Energy Generating Company of Ukraine (Energoatom), added that the situation at the plant was already not very good and was is getting worse.
"Over the past three weeks, the efforts of the Russian invaders to damage the equipment of the nuclear plant with shelling and also strikes on the lines that link the plant with the energy system of Ukraine have increased. This is very dangerous. They want to disconnect the station from the Ukrainian power system, after which they will try to connect it to Crimea. But when the plant will have no connection with the Ukrainian power system, it will go into blackout," Kotin said.
As noted, today there are up to 500 Russian soldiers and up to 50 units of heavy equipment: infantry fighting vehicles, Ural trucks, and tanks at the plant's territory. Moreover, the invaders drove the equipment to the engine rooms of power units No. 1 and No. 2. In fact, this means that the power unit is mined. Energoatom assumes that the trucks contain explosives and other explosive material and weapons.
As reported, the Russian military seized the ZNPP on the night of March 3-4.
The EU and 42 countries called on Russia to immediately withdraw its troops from the Zaporizhzhia NPP and the entire territory of Ukraine.
A crisis headquarters has been created on the basis of Energoatom, which includes representatives of various ministries, structures and departments that may be involved if an emergency situation related to the ZNPP arises.
ol