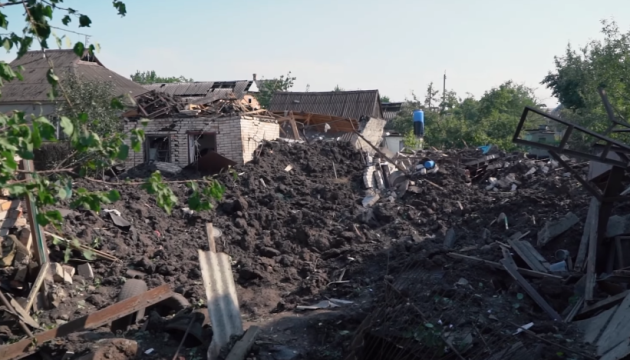 Donetsk regional administration shows aftermath of enemy strike on Druzhkivka
The Donetsk Regional Military Administration has shown the aftermath of enemy strike on the town of Druzhkivka, where 10 private residential buildings were destroyed.
The administration posted the corresponding video on Telegram.
The video shows partially and completely destroyed private houses, funnels from enemy weapons, and rocket fragments.
"The Russians destroyed 10 houses in one strike on Druzhkivka this morning. Fortunately, this time there were no casualties, but this is not the first such attack and certainly not the last," the regional administration wrote.
The authorities again called on the population to evacuate: "Russians will continue to fire on civilians in Donetsk region as long as they have the opportunity. Now the most important thing is to save life! So we urge you once again: evacuate in time! Don't make yourself a target!"
The aggressor constantly shells Donetsk region, killing and injuring citizens, destroying the civilian infrastructure of the populated localities of the region.
A mandatory evacuation is underway in Donetsk region. By the autumn-winter period, no more than 235,000 people involved in the defense and maintenance of critical infrastructure should remain, the rest should all be evacuated. Until February 24, 1,670,000 people permanently lived in Donetsk region.
ol