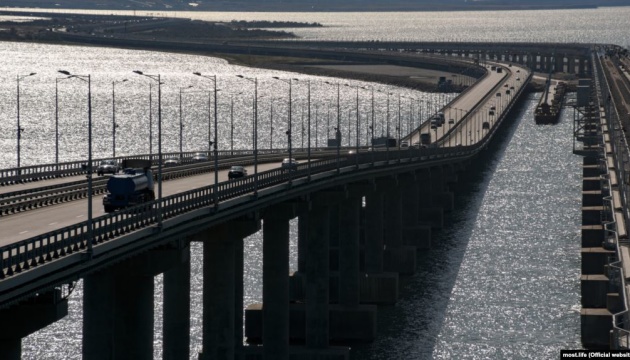 Crimean Bridge should be destroyed - Ukraine official
Such infrastructural objects as the Crimean Bridge connecting the occupied Crimea and mainland Russia are illegally erected structures that should be destroyed.
The advisor to the head of the President's Office, Mykhailo Podolyak, stated this in an interview with The Guardian, as reported by Ukrinform.
"It's an illegal construction and the main gateway to supply the Russian army in Crimea. Such objects should be destroyed," the advisor said.
According to Podolyak, the Russians have "a different physics" if they believe that the blasts of ammunition depots in Crimea are "the result of discarded cigarettes."
"I certainly agree with the Russian ministry for defence, which is predicting more incidents of this kind in the next two, three months. I think we might see more of those happening," Podolyak said.
The advisor to the head of the President's Office also noted that Ukraine's counteroffensive tactics will differ from those applied by Russia.
"So Russia has kind of taught everybody that a counteroffensive requires huge amounts of manpower like a giant fist and just go in one direction," he said, but "a Ukrainian counteroffensive looks very different.
"We don't use the tactics of the 60s and 70s, of the last century," Podolyak said.
The official also noted that he currently sees no prospects for serious negotiations with Russia until it is defeated on the battlefield.
"Russian ears only open up when there is a giant military bat hitting the Russian head," he said.
As reported, explosions rang out in the Dzhankoy district of occupied Crimea on August 16. The head of the Mejlis of the Crimean Tatar people, Refat Chubarov, said the enemy ammunition depot had been hit.
Earlier, on August 9, a series of explosions also hit a Russian air force base near Crimea's Novofedorivka.