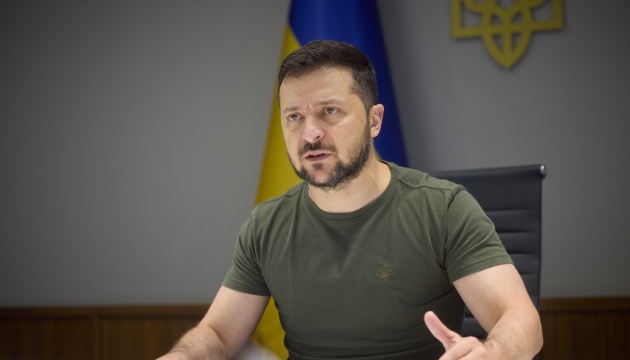 By shelling Zaporizhia NPP, Russia once again goes through floor in world history of terrorism - Zelensky
President Volodymyr Zelensky of Ukraine is convinced that the Russian Federation once again hit rock bottom by shelling the Zaporizhia Nuclear Power Plant.
No one in the world has ever instrumentalized a nuclear power plant to issue threats, the head of state said in an evening video address to the nation, Ukrinform reports.
"What is happening now around the Zaporizhia NPP is one of the biggest crimes of the terrorist state. Today, more arrivals of Russian shells were recorded on the NPP premises in the immediate vicinity of its facilities. Russia has once again gone through the floor in the world history of terrorism: no one else has used a nuclear plant so obviously to threaten the whole world and to put forward certain conditions," Zelensky stressed.
The leader emphasized that absolutely everyone in the world should react immediately to drive out the Russian invaders from the ZNPP. According to the president, this would be in a global interest, not just in that of Ukraine.
"We emphasize this at all levels – from the UN Security Council to interstate contacts. Only the complete withdrawal of the Russians from the ZNPP territory and the restoration of Ukraine's full control over the situation around the plant will guarantee restoration of nuclear safety for the whole of Europe," the president explained.
As Ukrinform reported earlier, on August 11, the enemy continued shelling Europe's largest Zaporizhia NPP. Five shells hit the area near the welding zone and the radioactive material storage. Another five hits affected the area near a fire unit, located close to the ZNPP.