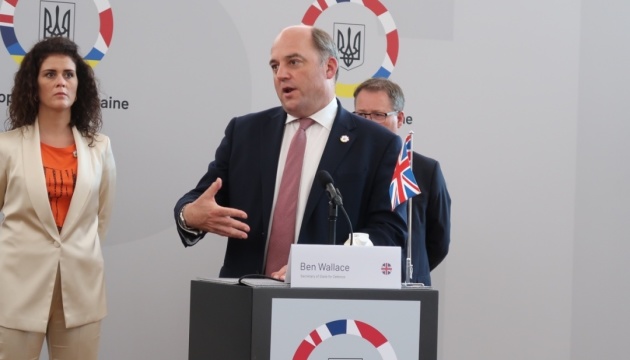 Russia can't achieve its goals in Ukraine, "starting to fail in many areas" - British defense chief
Russia has failed to achieve its initial objectives in Ukraine, while the West is continuing to support Kyiv.
That's according to British Defense Minister Ben Wallace, who spoke at a press conference following an international Donors Conference in Copenhagen, an Ukrinform correspondent reports.
"I think it's incredibly important for people to understand that the fighting is still going on, and it is still seeing the loss of life of both innocent civilians and indeed military personnel of the Ukrainian Armed Forces. (…) But it is also the case that Russia are starting to fail in many areas. They have failed so far and are unlikely to ever succeed in occupying Ukraine. Their invasion has faulted and is constantly being remodified to the extent rhey are really now focusing only in parts of the South and in the East, a long-long way away from their three-day so-called 'special operation,' which is now over 150 days, or nearly six months in, with huge significant losses of both equipment and indeed Russian personnel," Wallace said.
He noted that six months into the war, the international community remains on Ukraine's side in its fight to regain sovereignty. The minister said the conference was yet another major success, reaffirming readiness of the international community to further strengthen support for Ukraine.
The minister stressed that Britain will double the number of high-precision M270 MLR systems and deliver a large number of munitions to them, capable of hitting targets at a range of up to 80 km, and recalled the NLAW anti-tank missile launchers, delivered earlier in the amount of 5,500 units.
Wallace also spoke about the Fund, set up by Great Britain, aimed to raise money for purchasing military equipment for Ukraine, noting that Norway, Denmark, and a number of other nations have already contributed to it. The sum already raised stands at nearly EUR 500 million, of which EUR 350 million came from Britain.
As Ukrinform reported earlier, the International Donors Conference was held in Copenhagen, Denmark, on Thursday, August 11. The delegations included defense chiefs, their deputies, and other top officials.
Nearly EUR 1.5 billion was raised during the event.