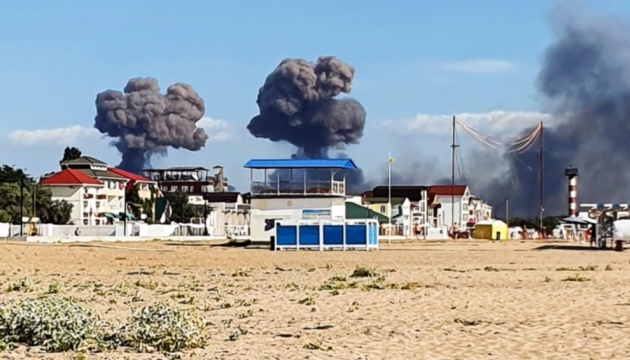 ISW: Ukrainian officials using confusion about Crimea explosions to obfuscate Ukraine's longer-range capabilities
Ukrainian officials are using the confusion in Russia about the theories behind explosions in Crimea to obfuscate Ukraine's long-range capabilities.
The Institute for the Study of War (ISW) said this in its latest Russian offensive campaign assessment, Ukrinform reports.
Analysts say that mixed stories in Russian media and among Russian milbloggers indicate that either officials within the Russian Ministry of Defense have competing theories regarding the attack and are sharing them with the media, or that the Kremlin has failed to coordinate its information operation to deny that Ukraine conducted a successful attack so far behind Russian lines.
Instead, Ukrainian officials are playing up the evident Russian confusion surrounding the attack to obfuscate Ukraine's longer-range capabilities. An anonymous Ukrainian official told the New York Times that the attack was carried out with the help of partisans. Another anonymous Ukrainian official told the Washington Post that Ukrainian special forces caused the explosion, while other Ukrainian officials implicitly referenced the attack but did not overtly take credit for it.
ISW still cannot independently assess what caused the explosions at the airfield - satellite imagery depicts multiple craters and scorch marks, but such damage could have been caused by many things - special forces, partisans, or missiles, on-site or from a distance.
"Ukrainian forces have various systems that they could have used or modified to hit Russian military infrastructure in Crimea or southern Kherson region," the report said.
Earlier reports said that "authorities" in Russian-occupied Crimea had confirmed explosions on August 9 outside Novofedorivka, where a Russian military airbase is located. Russia's Ministry of Defense said that "aircraft ammunition detonated" at the airfield.
The head of the Mejlis of the Crimean Tatar people, Refat Chubarov, said that Russian citizens illegally staying in Crimea received the first "call" about the need to immediately leave the occupied territory.
Since Russia's annexation of Crimea eight years ago, from 600,000 to 1.5 million Russians moved there, whereas 30,000 Crimean Tatars were forced to leave the peninsula.