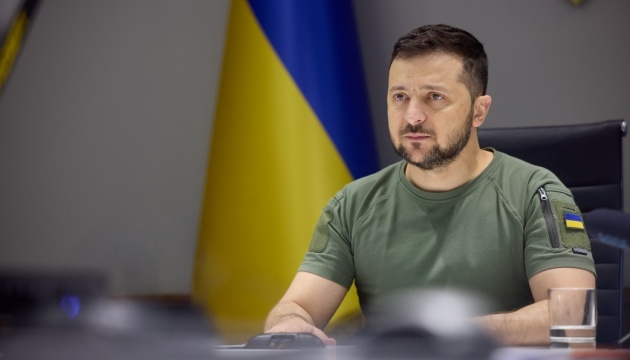 Zelensky: This Russian war on Ukraine must end with liberation of Crimea
President Volodymyr Zelensky of Ukraine has reiterated the fact that Crimea is part of Ukraine, and that the country will never leave it behind. The Russian war, which started with Crimea, must end with its liberation, the leader stressed.
The president made the statement in a video address to the nation, released on August 9, Ukrinform reports.
"This Russian war against Ukraine and against all of free Europe began with Crimea and must end with Crimea – with its liberation," the Ukrainian president said.
According to Zelensky, there is a lot of attention these days to the topic of Crimea, which is right. "Because Crimea is Ukrainian, and we will never leave it behind. We will not forget that the Russian war against Ukraine began with the occupation of Crimea. Russia has turned our peninsula, which has always been and will continue to be one of the best places in Europe, into one of the most dangerous places," Zelensky emphasized.
He noted that the Russian Federation brought large-scale repression, environmental issues, economic hopelessness, and war to Crimea. The very presence of Russian occupiers in Crimea is a threat to all of Europe and global stability, the head of state added.
"Maybe one day historians will determine how many people were killed by Russia's terror. Tens of thousands? Hundreds of thousands? From Ukraine and Georgia to Syria and more distant regions," Zelensky said.
He is convinced that the Black Sea region cannot be safe as long as the peninsula remains occupied. There will be no stable and sustainable peace in many Mediterranean countries either as long as Russia is able to exploit the Ukrainian peninsula as its military base, Zelensky believes.
As Ukrinform reported earlier, the occupying "authorities" of Crimea confirmed the explosions in the Novofedorivka area, where the Russian military air base is located. Ambulance vehicles were seen rushing to the scene.
The Ministry of Defense of Ukraine in a comment on the "fire" at the Saki airfield near Novofedorivka in the temporarily occupied Crimea said it cannot verify the cause of fire, but once again reminded that the occupation authorities should abide by "fire safety rules and refrain from smoking in undesignated areas."