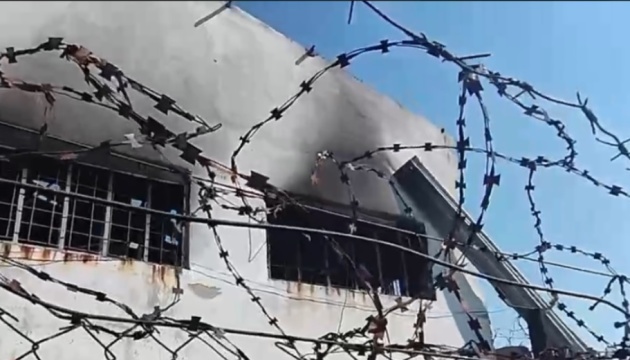 Ukrainian POWs tortured in Olenivka to be used for Russian propaganda – intelligence
The Main Intelligence Directorate at the Ukrainian Defense Ministry has established some circumstances of the pre-meditated murder of Ukrainian prisoners of war (POWs) by Russian invaders in Olenivka, Donetsk Region.
The relevant statement was made by the Main Intelligence Directorate at the Ukrainian Defense Ministry on Telegram, an Ukrinform correspondent reports.
"The Russian side was not planning to exchange prisoners of war and, in order to conceal the improper conditions and forms of questioning faced by Ukrainian POWs (which could serve as an evidence base in The Hague court), deliberately eliminated the prisoners. According to the available data, the premises where Ukrainian POWs were kept had been mined by the Wagner Group's militants, using a flammable substance, which resulted in the rapid spread of the fire," the report states.
According to the Ukrainian intelligence, POWs were interrogated by investigative officers of the so-called 'DPR' together with the Wagner Group and Russia's Federal Security Service. Interrogators actively used physical torture and beating.
"Such measures were aimed, first of all, not at receiving certain confidential data but at inflicting torture, physical humiliation and psychological demoralization in order to undermine the morale of Ukrainian defenders," the intelligence noted.
The Russian side expected to involve Ukrainian POWs in filming pro-Russian video reports. The key objective was to show Ukrainian defenders allegedly confessing to the crimes and atrocities committed against civilians, renouncing their views and condemning the actions of the Ukrainian leadership.
Interrogations were carried out on a conveyor basis but had no success, the Ukrainian intelligence stressed. Ukrainian POWs showed exceptional courage and indomitable spirit.
mk