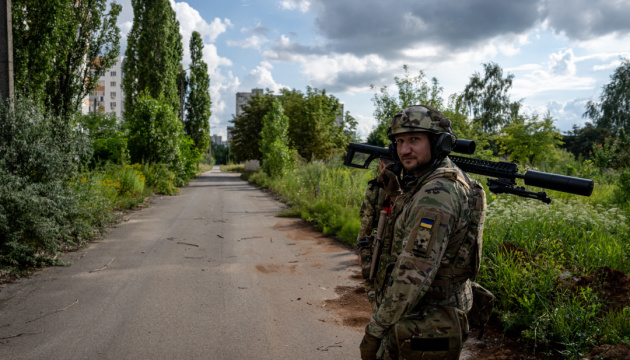 Marines eliminate 15 Russians, capture three more in Donetsk direction
The Armed Forces of Ukraine eliminated 15 Russian soldiers and captured three more in Donetsk direction.
"In Donetsk direction, the marines set up an ambush and eliminated two BMP-2 infantry fighting vehicles, one tank, 15 soldiers, and capture three more," the Naval Forces of the Armed Forces of Ukraine posted on Facebook.
In Kherson region, the Ukrainian troops also actively demilitarize the Russian army. "Our artillery hit an enemy tank that was in the unit's area of responsibility, and the servicemen captured two [Russian] soldiers. Artillery units also struck the clusters of manpower and equipment of the occupiers, conducted counter-battery fight. The losses of the enemy are being specified," the report reads.
As the Ukrainian Naval Forces noted, almost all captives are men forcibly mobilized from the so-called "DPR" which once again demonstrates all the "advantages" of life under Russian occupation. "Their Kremlin masters treat them in a distinctive way, driving them to death like cattle, sometimes they are not even given protective equipment. So those mobilized do not have much choice: either die from Ukrainian weapons or be shot by their fellows. However, there is a third option: to surrender. Ukrainians respect international law and POWs are not killed despite all the hatred for Russian non-humans," reads the publication.
As reported, the Armed Forces of Ukraine eliminated about 41,350 Russian invaders from February 24 to August 3.
Photo credit: Naval Forces of the Armed Forces of Ukraine
ol