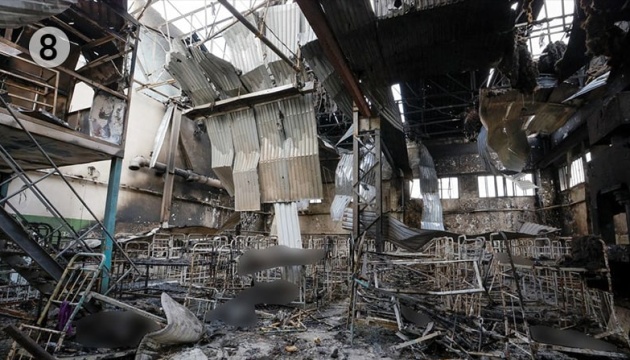 Azov's ex-commander says no verified lists of POWs killed, wounded in Olenivka available
The former commander of the Ukrainian National Guard's Azov Regiment, Maksym Zhorin, said that a number of Ukrainian prisoners of war who died in the explosion at the Olenivka colony in the occupied area of Donetsk region have already been identified.
That's according to the Suspilne public broadcaster, Ukrinform reports.
"There are partial lists that were made public. At the moment, they've been partially confirmed. But we can also say with confidence that these aren't full lists," said the ex-commander.
He emphasized that there are no complete and verified lists of the dead: "Unfortunately, we don't have verified lists of the dead and wounded at the moment. It is extremely difficult for families and friends who are waiting for their loved ones to return home. They are now in limbo. But Russia has not handed over any official lists".
Zhorin said that he was one of the first to learn about the tragedy. He is convinced that the explosion was a premeditated murder.
"Most likely, the building was blown up by means prepared in advance. It was not a missile strike for sure. Now, even satellite imagery makes it very clear that there are no traces of 'arrivals' and artillery engaging the premises. From what the damage to the building looks like, it's clear it was blown up from the inside," the serviceman explained.
According to Zhorin, the UN and the ICRC, as guarantors of the health and lives of Ukrainian defenders of the Azovstal plant in Mariupol, who were taken prisoner by the Russian forces, must find an opportunity to talk to the witnesses of the tragedy as soon as possible.
"I remember very well how, during the exit from Azovstal, the ICRC and the UN talked about being ready to take up responsibility, that they were ready to monitor the conditions of detention. But throughout all this time, the Red Cross was just once allowed to visit Olenivka, on the first day, when they withdrew from Azovstal. We have, in the literal sense, as a country, to force international organizations, the UN and the ICRC, whose duties involve this – to deal with this situation, to seek and demand from Russia access to the crime scene. And it is very important not just to get to the scene of the crime, but also to get the opportunity to talk with witnesses who survived in that building," Zhorin said.
He also confirmed that the Azov Regiment is launching its own search and identification of everyone who had anything to do with the incident in Olenivka.
As reported, Andrii Yusov, a representative of the Main Intelligence Directorate of the Ministry of Defense of Ukraine, said that there is no reason to trust the lists of dead and wounded Ukrainian POWs from the temporarily captured Olenivka that were published by the Russians.
Photo: InformNapalm