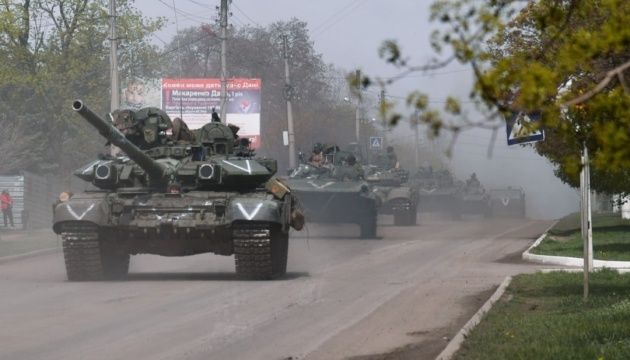 Russia setting up strike grouping toward Kryvyi Rih - Ukraine Command
In the south of Ukraine, the invaders started creating a strike grouping in the Kryvyi Rih direction. The enemy is likely preparing a counteroffensive, planning to advance to the administrative border of Kherson region.
That's according to Operational Command South, Ukrinform reports.
"The enemy continues to wage hostilities along the occupied defense line. They started to set up a strike grouping in the Kryvyi Rih direction. It is quite likely that the enemy is preparing a counteroffensive with further plans to advance to the administrative border of Kherson region," the report says.
At the Sukhy Stavok – Biloghirka frontier, the invaders tried to conduct reconnaissance by force with the support of two tanks. The attempt saw no success as the enemy retreated, having suffered losses.
Throughout the day, the Russians launched two air strikes and two missile strikes on the positions of the Armed Forces of Ukraine. The enemy helicopters and Smerch MLR systems fired from the temporarily occupied territories of Kherson region and Mykolaiv region, along the contact line.
As noted, three Kh-101 cruise missiles were shot down by the anti-aircraft missile unit in the Bashtanka district, Mykolaiv region.
The Ukrainian air force carried out three strikes on strongholds and one – on the equipment cluster in the Berislav and Bashtanka districts.
Rocket and artillery units hit Chornobayivka, where the base of the occupying forces is located.
Confirmed losses of the enemy stand at 20 servicemen, two T-72 tanks, a Msta-B howitzer, four trucks and armored vehicles. The enemy losses are still being verified.
"The formation of Russia's Black Sea Fleet consists of 13 warships and cutters sheltering in missile-proof areas. Among them are two carriers of 16 Kalibr cruise missiles and three large landing craft," the Command added.
As reported, over the past day, the Ukrainian military in the Southern direction eliminated 32 invaders, while the Air Force struck three enemy strongholds.