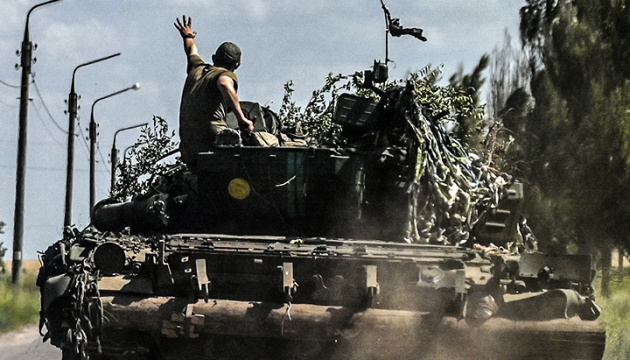 1,054 settlements liberated from Russian invaders in Ukraine
A total of 1,054 settlements have already been liberated from Russian invaders in Ukraine.
The relevant statement was made by Deputy Head of the Office of the President of Ukraine Kyrylo Tymoshenko at a briefing, an Ukrinform correspondent reports.
"Currently, a total of 1,054 settlements have already been de-occupied. Within all the areas liberated from Russian occupation, prompt recovery works are underway," Tymoshenko told.
In particular, Zhytomyr Region continues to rebuild the infrastructure objects and residential houses damaged by Russian troops. Local residents are directly involved in the restoration of their homes.
"The state has undertaken to reimburse for expenses," Tymoshenko stressed.
In his words, a building of Zhytomyr Polytechnic State University has already been fully renovated. Roofs and windows were replaced in more than 13 schools and kindergartens.
According to Tymoshenko, Sumy Region continues to recover from numerous enemy shelling and bombardments.
"Routine repair works were completed in the administrative building of Sumyoblenergo. Mobile connection interruptions are being fixed within the Myropillia united territorial community. A poultry farm fully resumed operation in the village of Vilshanka," Tymoshenko noted.
A reminder that, on February 24, 2022, Russia started a full-scale invasion of Ukraine.
mk