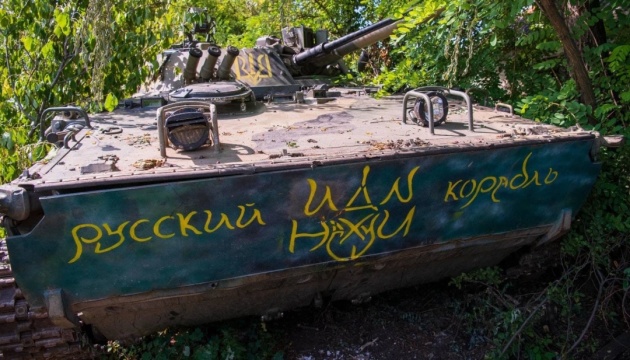 Marines eliminate 200 invaders, dozens of Russian equipment units in a week
Over the past week, the units of the Naval Forces of the Armed Forces of Ukraine eliminated more than 200 Russian soldiers and dozens of units of enemy equipment.
"Military units and divisions of the Marine Corps Command of the Naval Forces of the Armed Forces of Ukraine as part of the groupings continue to take measures to repel the full-scale armed aggression of the Russian Federation in various directions of the state's defense. Between July 25 and July 30, 2022, our defenders inflicted heavy losses on Russian occupiers," the press service of the Naval Forces of the Armed Forces of Ukraine posted on Facebook.
In particular, the Ukrainian marines destroyed two Russian tanks, two armored combat vehicles, and two vehicles and damaged seven more enemy vehicles during the mentioned period.
While the Russian troops were launching an offensive, the Ukrainian marines "suppressed the work" of seven enemy tanks, 30 mortar units, and two artillery units at firing positions. Fifty-five invaders were eliminated.
During the specified period, the artillery units of the Naval Forces destroyed three Russian tanks, eight infantry fighting vehicles (BMP-2 and BMD-3), three armored combat vehicles, eight self-propelled artillery systems, one anti-aircraft system, an electronic warfare station, 29 vehicles, more than 150 personnel, as well as four ammunition depots.
As reported, from February 24 to July 31, the Armed Forces of Ukraine eliminated about 40,830 Russian invaders and destroyed 1,763 tanks, 4,004 armored personnel vehicles, 916 artillery systems, 259 MLRS, and other enemy equipment.
Photo credit: Naval Forces of the Armed Forces of Ukraine
ol