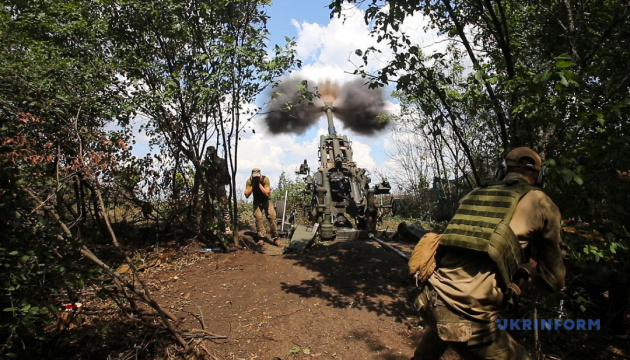 Russians pushed back in three directions, partially succeed near Avdiivka – General Staff
The Ukrainian military have pushed back Russian troops in such directions as Kharkiv, Bakhmut and Avdiivka. The enemy had partial success near Avdiivka, and transferred certain units from the Sloviansk direction to the Zaporizhzhia direction.
The relevant statement was made by the General Staff of the Armed Forces of Ukraine on Facebook, an Ukrinform correspondent reports.
As of 06:00 p.m., July 31, 2022, the situation remained unchanged in the Volyn and Polissia directions. Belarusian armed forces are completing tasks to enhance the protection of the Belarusian-Ukrainian state border in Brest Region and Gomel Region.
In the Siverskyi direction, Russian troops used cannon and rocket artillery to open fire on Chernihiv Region's Hai and Senkivka, and Sumy Region's Shevchenkove, Ryzhivka, Bilopillia, Iskryskivshchyna and Romashkove.
Near Chernihiv Region's Zaliznyi Mist, the enemy conducted reconnaissance with an unmanned aerial vehicle (UAV).
In the Kharkiv direction, Russian invaders used cannon and rocket artillery to open fire near Kharkiv, Duvanka, Udy, Dementiivka, Petrivka, Prudianka, Pytomnyk, Pryshyb, Pushkarne, Ruski Tyshky, Protopopivka, Verkhnia Rohanka, Korobochkyne, Borshchova, Staryi Saltiv, Ruska Lozova, Slatyne and Sosnivka.
Near Staryi Saltiv, Russian troops launched an air strike. The enemy attempted to advance towards Husarivka but was repulsed, and retreated.
In the Sloviansk direction, Russian occupiers used artillery to open fire near Sloviansk, Andriivka, Dolyna, Dovhenke, Kurulka, Husarivka, Adamivka, Bohorodychne, Krasnopillia, Karnaukhivka, Chervone, Semylanne, Hrushuvakha and Chervona Poliana.
In the Kramatorsk direction, Russian invaders used tanks, cannon and rocket artillery to open fire near Siversk, Kalenyky, Pereizne, Zvanivka, Vyimka, Verkhniokamianske, Kryva Luka, Spirne and Serebrianka, and launched air strikes bear Spirne and Hryhorivka.
Near Serebrianka, an enemy reconnaissance group attempted to reveal the positions of Ukrainian forces but failed and retreated. Near Hryvhorivka, the enemy conducted air reconnaissance with an UAV.
In the Bakhmut direction, Russian troops opened fire near Kodema, Vershyna, Travneve, Bakhmut, Zaitseve, Soledar, Yakovlivka, Pokrovske and Bilohorivka.
With the support of aviation, Russian occupiers attempted to improve their tactical position near Vershyna, Soledar, Yakovlivka and Pokrovske. Ukrainian defenders disrupted their plans with accurate fire and forced them to retreat.
In the Avdiivka direction, the enemy used the available weapons to open fire near Nevelske, Umanske, New York, Krasnohorivka, Avdiivka, Pisky and Novobakhmutivka.
According to the data from the General Staff, Russia's attack and combat aircrafts cynically struck such settlements as Avdiivka, Novoselivka and Yurivka.
Russian troops attempted to advance near Kamianka and Pisky but failed. Near Avdiivka, certain enemy units had partial success.
In the Novopavlivka direction, Russian invaders launched artillery strikes near Marinka, Prechystivka, Velyka Novosilka, Novopole, Novosilka, Vremivka, Bilohiria, Zelene Pole, Pavlivka, Olhivske, Vuhledar, Novoukrainka, Temyrivka, Stepnohirsk, Huliapilske, Mala Tokmachka, Zaliznychne, Nesterianka and Mali Shcherbaky.
Russia's assault and combat aircrafts launched strikes near Mali Shcherbaky, Stepove, Marinka and Yehorivka. Near Stepnohirsk and Myrne, the enemy conducted air reconnaissance with an UAV.
Certain enemy units were transferred from the Sloviansk direction to the Zaporizhzhia direction.
In the Southern Bug direction, Russian troops are focusing efforts to maintain the captured frontiers and prevent Ukrainian forces from creating favorable conditions for the further offensive. The enemy used the available weapons to open fire on Ukrainian positions, destroy civilian and military infrastructure along the contact line and deep into the defense lines.
Russia's naval group in the Black Sea and the Sea of Azov is focusing efforts to block civilian shipping in the south-western part of the Black Sea and attack military and civilian infrastructure deep into the territory of Ukraine. Four sea-based cruise missile carriers are ready to open fire.
A reminder that, between February 24, 2022 and July 31, 2022, Russia's total combat losses in Ukraine reached about 40,830 troops.
mk