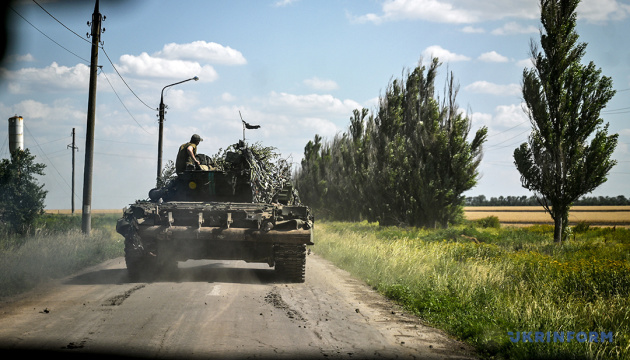 Ukraine's Armed Forces repulse enemy offensive in several directions in Luhansk region
In the east, the enemy tries to advance deep into Ukrainian territory with the help of attack and army aircraft. At the same time, the Armed Forces of Ukraine repulsed several enemy attempted advances.
"The enemy does not stop trying to improve the tactical position in order to attack Bakhmut and adjacent localities on the border between Luhansk and Donetsk regions. The Russian infantry is backed by attack and army aviation. On July 30, airstrikes were recorded near seven cities and villages. With such actions, the occupiers try to create additional pressure on the Ukrainian defense," Serhiy Haidai, Head of the Luhansk Regional Military Administration, posted on Facebook.
He added that the enemy was concentrating its efforts on hitting military facilities and infrastructure elements, leaving populated localities without gas and electricity.
The positions of the Ukrainian troops came under fire along the entire line of contact.
According to Haidai, four missile strikes, 15 artillery strikes, three mortar strikes, five MLRS strikes, and three tank attacks were launched.
"The Russians want to constrain defense actions so that we do not have the opportunity to rotate or strengthen other directions," Haidai believes.
On Saturday, Ukrainian fighters exposed and neutralized a Russian scout group.
At the same time, the enemy's aviation group conducts systematic combat operations to back the actions of ground groups.
However, the Head of the Luhansk Regional Military Administration noted, the enemy offensive was repulsed in several directions.
ol