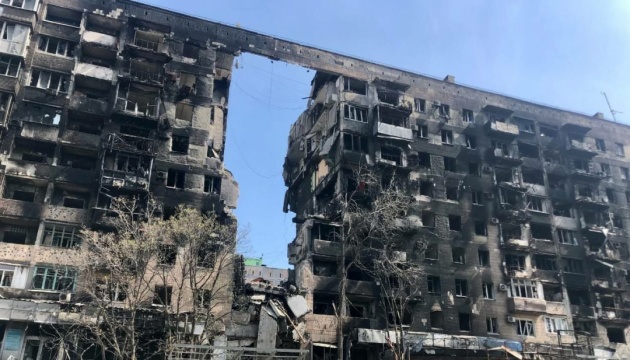 Ruins, bonfires in streets, unsanitary conditions: How Mariupol struggling to live under occupation
The majority of residents of Mariupol, temporarily occupied by Russian troops, live beyond all humanitarian norms.
"The majority of residents of Livoberezhny district and remote neighborhoods of Kalmiusky district continue to live beyond all humanitarian boundaries of humanity. Bonfires, weapon boxes as firewood, yards full of trash, washing from buckets. The Middle Ages settled in Mariupol together with the occupiers," Petro Andriushchenko, adviser to Mariupol mayor, posted on Telegram.
He released videos of destroyed houses, littered damaged streets, where people cook food on bonfires near their porches.
In addition, as the Mariupol City Council reported on Telegram, Mariupol residents are suffocating from smoke that spread due to the "controlled setting fire" to the floodplain of the Kalchyk River.
"The occupiers tried to clear the floodplain of the Kalchyk River near the bridge at the Extreme Park by 'controlled setting fire'. The fire was set but problems arise with the control. As a result, people in the city are suffocating from smoke," reads the publication.
The Mariupol City Council released a photo showing thick smoke near the bridge at the Extreme Park covering the city's streets.
As reported, Mariupol experiences one of the biggest humanitarian disasters caused by Russia's aggression. The city was almost completely destroyed as a result of enemy shelling.
Now Mariupol has no normal electricity, water, and gas supplies. Since the beginning of the Russian invasion, about 22,000 civilians have died in the city. More than 50,000 people have been deported to Russia and the temporarily occupied territories of Donetsk region.
Currently, more than 100,000 residents remain in the blocked city. Mariupol is on the verge of environmental disaster and an outbreak of infectious diseases.
The Russian invaders declared collaborator Kostiantyn Ivashchenko as the "mayor" of Mariupol and create a picture of "restoration of the life of the city".
ol